What kind of onsen ryokan is Okuhita Onsen Umehibiki?
If you are looking for luxury modern ryokans with peaceful mountain views, I would recommend it.  It opened in Nov 2017.  Facilities are the latest.  If this is your first time staying at ryokans, you should stay here.  Perhaps, if you are looking for rooms with nice outdoor private hot springs, you should stay here.  On the other hand, if you are looking for authentic ryokans, this is not.  The ambiance is family-oriented, cozy, and relaxed.  Okuhita Onsen Umehibiki would be great for family, couples, or small groups.  If you are a solo traveler, you can stay here on weekdays only.
  TOP5 Ryokans with Private Onsen in Yufuin, Kyushu
  TOP5 Ryokans for Families in Yufuin, Kyushu
  TOP5 Modern Ryokans in Yufuin, Kyushu

Is the location easy to access?
The location is not in Yufuin.  It is located a 25min-drive away from Hita Station.  Free shuttle service from the station or Hita Bus Center is available between 15:00 and 16:30.  You need to book it in advance.  It takes around 60min from Yufuin Station to Hita Station by train.

Where is the best accommodation for anniversary?
If you are looking for venues for special occasions, the property would be one of the best. The staff arranges cakes to celebrate an anniversary at an additional charge if you request in advance.
  TOP5 Romantic Ryokans in Yufuin, Kyushu

Rooms I would recommend?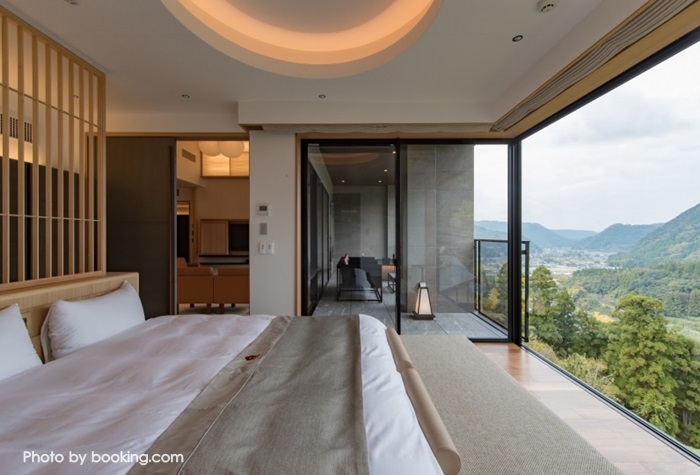 If you are going to stay here, I would recommend rooms with private outdoor hot springs and views of the valley.  It's truly worth it.  You can see dynamic mountain views while soaking in the bath.  That's precious time.  The room is stylish, functional, and spacious.
How about toiletries & in-room amenities?
All of the amenities are taken care of including enough toiletries, yukatas, samue outfits, a humidifier, a coffee machine, welcome sweets, a green tea set, and a complimentary mini-bar, etc.  Then there are many kinds of pillows you can choose from.  Free Wifi reception was patchy in the property.  Then complimentary coffee, tea, and sweets, etc., were available at the bar lounge between 17:00 and 19:30, and some complimentary alcoholic beverages were available between 20:00 and 23:00.  Room service is not available.  Also, this is child-friendly.  Staff can provide baby chairs, baby baths, samue outfits, toys, books, and a nice kids-play room.
How about In-house Facilities?
There are some indoor and outdoor communal hot springs with saunas.  Also, there are two indoor private family ones.  They cost 1,100JPY for 50min.  You need to book at the reception if you want to use them.  All of them are open from 6:00 to 9:00, and 15:00 to 23:00.  The spring quality wouldn't be special if compared to others in Yufuin.  *Please note that if you have tattoos and want to use the communal hot springs, use reserved private family baths instead, or book a room with a private outdoor one.   Then the property has a wonderful Japanese plum liquor cellar with a salon.  Don't forget to visit the cellar too.  Complimentary coffee, tea, and baked cakes were available at the salon.  It couldn't be better.   Also, there are vending machines for drinks in-house.  There is no convenience store nearby.  You might want to buy your necessities before coming here.  The small gym in the main building is available for free.  It's open from 6:00-9:00, 15:00-21:00.  Then Okuhita Onsen Umehibiki is not a perfect universal design, but there are some steps around the communal baths only.  Also, I wouldn't recommend rooms in the annex if you bring wheelchair users.  Wheelchairs are available for borrowing.  If you bring people with weak feet, you may want to inform the staff in advance as they can arrange a room near the lift.
  TOP5 Accessible Ryokans in Yufuin, Kyushu

How about meals?
The kaiseki cuisine for dinner and breakfast was just divine.  The food tends to be sophisticated.  If you are a gourmet, you should try it.  The portion tends to be big.  All meals are served in a private room in a dining area.  Dinner starts either from 18:00 or 19:30.  Breakfast starts either from 7:30 or 9:00.  *Please note that inform the staff when you book a room with meals if you have any food allergies.  They probably wouldn't be able to prepare alternative food if you request on that day.  Then, as far as I know, there is no nice restaurant around the property.  You may want to book a room including meals.
My impressions
The most important I would like to highlight is that all staff is very warm, proactive, and considerate.  I'm sure you can experience signature Japanese hospitality during your stay.  If you cannot find English speakers, you might want to write on paper what you want to say.  Most of the young staff would understand English sentences.  I hope you don't mind.  Overall the property has good value for money if compared to others in Yufuin.  Everything was unexpectedly good. Have a nice trip!  Welcome to receive any questions about Okuhita Onsen Umehibiki from the below space.   You need to inform the staff of your expected arrival time in advance.   Check Availability and Pricing for the ryokan on Booking.com or Agoda
Info about Okuhita Onsen Umehibiki
Style

Modern Onsen Ryokan

Check-in and out times


15:00/11:00

Estimated Price

30,000 JPY for 2 adults per room

Contact

Internet Connection

Free WiFi at the ryokan

Facility Information

 Wheelchairs are available
Pets are not allowed
The free parking lot is available


Location

Okuhita Onsen Umehibiki's MAP

Access

25min by free shuttle bus from
Hita Station or Hita Bus Center
Need to book it in advance


Address and TEL

Tel +81

Official Homepage

Okuhita Onsen Umehibiki's HP
*All information above is as of the date that I posted on my blog.