What kind of onsen ryokan is Baien?
This is a cozy modern onsen ryokan with a wonderful garden.  If you are looking for typical onsen ryokans with Mt. Yufu views, I would recommend it.  Perhaps, if you are looking for rooms with private outdoor hot springs in Yufuin, you should stay here.  Once we arrived at Baien, we were welcomed warmly.  All staff is gracious, thoughtful, and sophisticated.  They are absolutely the loveliest group.  The ambiance is tranquil, friendly, and family-oriented.  The property would be great for couples, families, small groups, or solo travelers.  If you are a solo traveler, you may want to stay on weekdays as there are many families with children on the weekend.
Is the location easy to access?
Yes, it would be easy, but the location is a bit away from Yufuin Station.  It takes 5min by TAXI from the station.  It costs around 800JPY.  It takes 30min on foot.  A free shuttle service is not available from the station.
Rooms I would recommend?
If you are going to stay here, I would recommend rooms with private outdoor hot springs in an annex.  The rooms are serene, charming, and quaint.
Is this child-friendly?
Yes, Staff can provide yukatas, futons, and meals for children at an additional charge if you request in advance.
  TOP5 Ryokans for Families in Yufuin, Kyushu

How about In-house Facilities?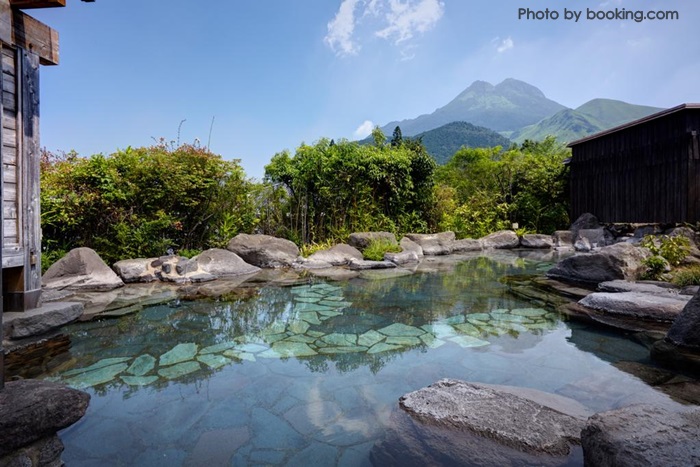 There are outdoor communal hot springs with dynamic views of Mt. Yufu.  The view of the mountain is indescribably beautiful in good weather.  The website looks good, but in reality, it would be much more amazing.  Also, there are two private family hot springs that you can use for free whenever they are not occupied.  All of them are open for 24H.  The spring quality wouldn't be special, though.  *There is no indoor communal hot spring, so if you stay in the winter season, you need to warm your body at your private baths in your rooms or the private family baths before going to the communal baths.  **If you have tattoos, you may not be permitted to use the communal bathing area.  You may want to use the private family baths instead.
Then there is a beautiful large garden on the property.  You can enjoy the beautiful scenery of each season while viewing Mt. Yufu.  Then bikes are available for free.  You should go cycling around Kinrin Lake.  Then, there is no convenience store nearby.  You may want to buy your necessities before coming here.  Room service is not available.  There are vending machines for drinks.  The Free Wi-Fi reception was good.  Then Baien is a universal design.  If you bring people with weak feet, I would recommend it.  My grandma is a wheelchair user.  She always hesitates to go traveling for hot springs, but she was so happy to stay at Baien.  Because the private family hot springs are user-friendly for wheelchair users.  Also, all staff is always helpful.  On top of that, when we moved around the property, staff sent us by resort cart.  That's a great service.  Wheelchairs are available for borrowing.
  TOP5 Accessible Ryokans in Yufuin, Kyushu

How about meals?
The kaiseki food experience using a lot of local ingredients was simply wonderful.  All meals are served in a dining area.  If you bring small children or you are a solo traveler, the staff would prepare a private room in the dining area.  Dinner time is between 18:00 and 21:00.  Breakfast time is between 7:30 and 9:30. *Please note that inform the staff when you book a room with meals if you have any food allergies.  They probably wouldn't be able to prepare alternative food if you request on that day.  Alternatively, you can go out for dinner as there are some nice restaurants around Yufuin Station, but you may need to get a TAXI unless you have a car.  After dinner, don't forget to visit the bar in an annex.  You can enjoy drinking while viewing an illuminated garden.  The ambiance is romantic, mystical, and very cozy for adults.
My impressions
Overall, the property has great value for money.  Baien is not luxury, but it's well worth it.  We definitely return in fall next year.   Have a nice trip!  Welcome to receive any questions about Baien from the below space.  *You need to inform staff in advance if you check in after 18:00.  Check Availability and Pricing for the property on Agoda or Booking.com
Info about Baien
Style

Modern Onsen Ryokan

Check-in and out times


15:00/10:30

Estimated Price

35,000 JPY for 2 adults per room

Contact

Call at +81 977-28-8288 from overseas
Call at 0977-28-8288 domestic Japan


Internet Connection

Free WiFi in the ryokan

Facility Information

Wheelchairs are available
Pets are not allowed
The free parking lot is available


Location

Baien's MAP

Access

30min walk from Yufuin Station

Address and TEL

879-5102 Oita, Yufu, Kawakami 2106-2, Japan
Tel +81 977-28-8288

Official Homepage

Baien's HP
*All information above is as of the date that I posted on my blog.