What kind of onsen villa is Oyado Nihon no Ashitaba?
This is a luxury mountain hut-style villa in Yufuin.  Absolutely, it's like you're in another world.  This is a spectacular place to stay with attention to every detail, such as architecture, interior, antique furniture, and decorations.  The property is a modern design expressing unique Japanese sensitivity.  Once we arrived at the property, the staff served nice welcome sweets and fruit with tea.  We were so relaxed in the lobby while viewing a peaceful garden.  Then the staff escorted us to a beautiful villa.  There are 11 villas only on-site.  The property completely emphasizes private experiences for each guest.  Oyado Nihon no Ashitaba would be great for family, couples, small groups, or solo travelers.  The ambiance is nostalgic, charming, and quaint.  We were excited to explore on-site.  If you want to get much of an immersive "luxury mountain life" experience as you expect, you should stay here.
  TOP5 Authentic Ryokans in Yufuin, Kyushu

Is the location easy to access?
Yes, it would be easy from Yufuin Station by taxi.  A free shuttle service is not available.
Where is the best accommodation for anniversary?
If you are looking for venues for special occasions, the property would be one of the best. The staff arranges cakes to celebrate an anniversary at an additional charge if you request in advance.
  TOP5 Romantic Ryokans in Yufuin, Kyushu

Rooms I would recommend?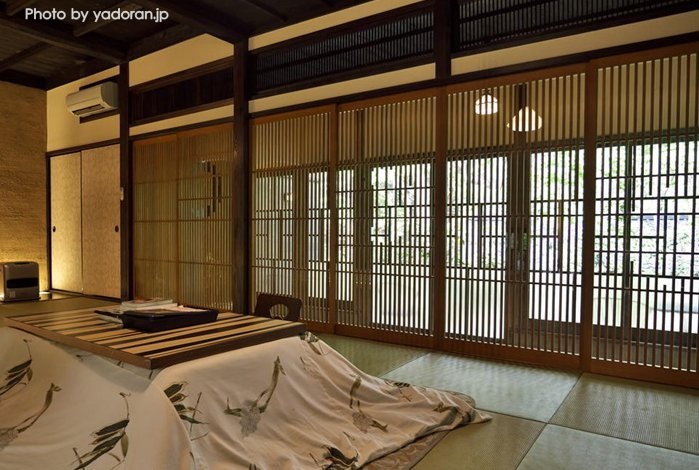 Each room is very unique.  If you stay for two or more nights, you should change rooms each day.  Then if you don't want to sleep on Japanese-style mattresses in tatami rooms, you may want to book a room with twin beds.  Also, if you love hot springs, you should book a room with an outdoor private hot spring.  Facilities tend to be the latest.  The housekeeping was excellent.
How about toiletries & in-room amenities?
All of the amenities are taken care of including enough toiletries, yukatas, a coffee machine with capsules, a complimentary mini-bar, and green tea bags, etc.  The Free Wi-Fi reception was good.  You can borrow DVD players, humidifiers, and transformers if you request.  Room service is not available.  There is a vending machine for drinks.  There is no convenience store nearby.  You may want to buy your necessities before coming here.  Also, this is child-friendly.  Staff can provide futons, yukatas, and meals for children if you request in advance.
How about In-house Facilities?
There are 8 amazing private family hot springs that you can use for free whenever they are not occupied.  Only a large outdoor private family hot spring with Mt. Yufu views is needed to book in advance when you check-in.  5 of them are open for 24H and the others are open until 24:00.  There is no communal hot spring in-house.  After enjoying the hot springs, don't forget to try complimentary hot spring eggs.  Then Oyado Nihon no Ashitaba is not universal design.  There are many steps and very large.  If you bring wheelchair users, I wouldn't recommend it.  If you bring people with weak feet, you may want to inform the staff in advance as they can arrange a villa near the entrance and the private family baths.  Then there is a cozy lounge, a souvenir shop, and a small gallery on-site.
  TOP5 Accessible Ryokans in Yufuin, Kyushu

How about meals?
The local cuisine using a lot of local ingredients for dinner and breakfast was just divine.  If you are a gourmet, you must be happy.  The portion tends to be big.  Don't forget to bring your empty stomach.  All meals are served in a dining area.  The table is separated by dividers that provide a decent level of privacy.  Also, you need to check-in by 18:00 if you have dinner here.  After dinner, I would recommend visiting the bar on-site.  The ambiance is very cozy.  Alternatively, you can go out for dinner as there are some nice restaurants in Yufuin, but you need to take a taxi unless you have a car.  It takes 10min by car.  It costs JPY1000.  *Please note that inform the staff when you book a room with meals if you have any food allergies.  They probably wouldn't be able to prepare alternative food if you request on that day.
  TOP5 Gourmet Ryokans in Yufuin, Kyushu

My impressions
All staff is excellent.  If you expect signature Japanese hospitality, you should stay here.  Overall, the property has great value for money if compared to other luxury properties.  At last, the best season to stay here would be in spring or fall.  We fully enjoyed the old-world beauty of the garden.  Have a nice trip!  Welcome to receive any questions about Oyado Nihon no Ashitaba from the below space.  Check Availability and Pricing for the property on Agoda or Booking.com
Info about Oyado Nihon no Ashitaba
Style

Japanese-style Villa

Check-in and out times


15:00/11:00

Estimated Price

50,000 JPY for 2 adults per room

Contact

info@2hon-no-ashitaba.co.jp


Internet Connection

Free WiFi in the ryokan

Facility Information

Wheelchairs are not available
Pets are not allowed
The free parking lot is available


Location

Oyado Nihon no Ashitaba's MAP

Access

10min by taxi from Yufuin station

Address and TEL

918-18 Yufuinchō Kawakita, Yufu-shi,
Ōita-ken 879-5114 Tel +81 977-84-2664

Official Homepage

Oyado Nihon no Ashitaba's HP
*All information above is as of the date that I posted on my blog.