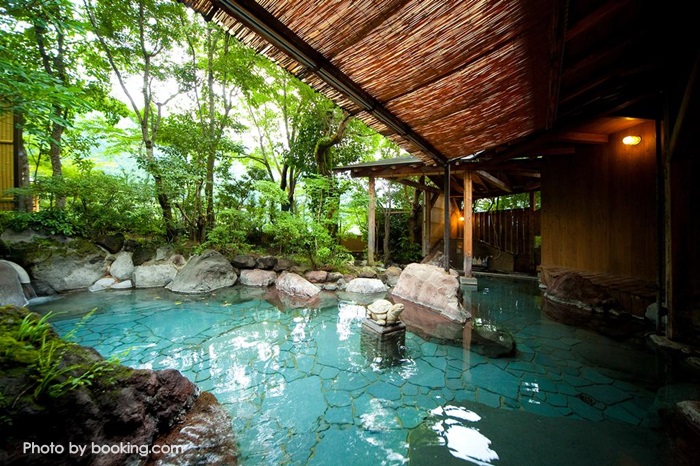 If you are looking for traditional mountain huts in Yufuin, I really think you should stay here.  Perhaps, if you are looking for rooms with private hot springs, I would highly recommend the property.  There are some wonderful rooms with private hot springs.  This is like a small village.  Once we entered the property, we felt that we were being pulled into old-Japan.  We were so excited to explore around here.  The ambience was truly amazing, charming and quaint.  The stately interior, decorations, and architecture create a traditional impression.  The property would be great for family, couples, groups, and solo travelers.  There are 13 rooms only.  If you are going to stay here, I would highly recommend booking a room with a private hot spring.  The spring quality would be perfect, like skin lotion.  The water temperature was lukewarm.  We spent a lot of time jumping in and out of our private one until check-out time.  The room is Japanese minimalistic, but truly relaxing.  On the other hand, others without private ones wouldn't be special.  You may feel disappointed.  Overall the property tends to be darker including rooms.  Facilities tend to be bit worn out. 

Wifi reception was good around the lobby only

.  When we stayed here in 2018, we couldn't connect to the internet in our room.  All of the amenities are taken care of including minimum toiletries, yukatas, drip coffee bags, tea bags, and a Japanese tea set.  Room service is available.  There is a convenience store nearby.  Complimentary sweet potato shochu, coffee, milk, wheat tea, boiled eggs, steam potatoes, rice cake, and popcorn, etc., are available in the property.  Then there are wonderful indoor and outdoor public hot springs in-house.  They are open for 24H.  Also there are two private family hot springs which you can complimentary use.  You need to book them when you check in.  You can fully enjoy the baths while viewing a peaceful Mt.Yufudake.  That's the precious time.  They are open from 6:00-9:00, 15:00-23:00.  *If you have tattoos and want to use the public hot springs, use reserved private family ones or book a room with a private one attached.  Then the property is not universal design.  There are some steps.  There is no lift.  A wheelchair is available for borrowing.  If you bring people with weak feet, you may want to book a room with a private hot spring as you wouldn't need to move around once you enter your room.  Then Kyoto-style kaiseki food experience was good, but wouldn't be special.  If you are a gourmet, you may want to go out for dinner as there are some nice restaurants in Yufuin.  All meals are served in a private room.  *Please note that inform staff when you book a room with meals if you have any food allergies.  They probably wouldn't be able to prepare alternative food if you request on that day.  Then the most important I would like to highlight is staff here is really helpful, warm and attentive.  You can experience signature Japanese hospitality with personal touch.  Also they arranged to send our luggage only to Yufuin Station after we checked out, so we could move around more freely.  That's the great service.  Overall the price range would be reasonable.  We did appreciate their excellent hospitality.  If you want to get much of an immersive "landscape in the original state" in Japan, it's well worth staying at Yufuin Hoteiya.  An access to the property is 20min walk from Yufuin Station.  Free shuttle service is available from the station.  You need to book it in advance.  At last, the property is one of very popular in Yufuin.  If you want to chill out at the property in a tranquil atmosphere, you may want to avoid staying during Lunar New Year, late April to early May, weekend in Oct and Nov, and the end of year and New Year holiday.  Have a nice trip!  Welcome to receive any questions about the property from the below space.  *All information is as of the date that I posted on my blog.  **Check in and out times 15:00/10:00  ***You need to inform staff of your expected arrival time in advance. 
Check Availability and Pricing for the property on

Agoda

or

Booking.com
Info about Yufuin Hoteiya
Style

Mountain hut style Ryokan

Guest Rating

Superb 9.1

Estimated Price

60,000 JPY for 2 adults per room

Contact

Internet Connection

Free wifi around the lobby only

Facility Information

Wheelchairs are available
Pets are not allowed
Free parking lot is available


Location

Yufuin Hoteiya's MAP

Access

Free shuttle service from Yufuin Station


Address and TEL

 
Tel +81

Official Homepage

Yufuin Hoteiya's HP