What kind of onsen ryokan is Yufuin Rikka?
If you are looking for small modern ryokans in Yufuin, you should stay here.  Perhaps if you are looking for rooms with private hot springs, I would recommend it.  Each room has a nice private one.  There are 6 rooms only.  We didn't see other guests during our stay.  Absolutely the property completely emphasizes private experiences for each guest.  The surrounding neighborhood was so quiet even though there were so many tourists on the main street.  If relaxation is your main purpose, Yufuin Rikka would be perfect.  The ambiance is serene, stylish, and sophisticated.  The property would be great for couples, families, small groups, or solo travelers.
  TOP5 Modern Ryokans in Yufuin, Kyushu
  TOP5 Ryokans with Private Onsen in Yufuin, Kyushu
  TOP5 Ryokans for Solo Travelers in Yufuin, Kyushu

Is the location easy to access?
Yes, it would be easy.  A free shuttle service is available from Yufuin Station.  You need to book it by the day before you check-in.  The location is a 10min-walk from the station.
Rooms I would recommend?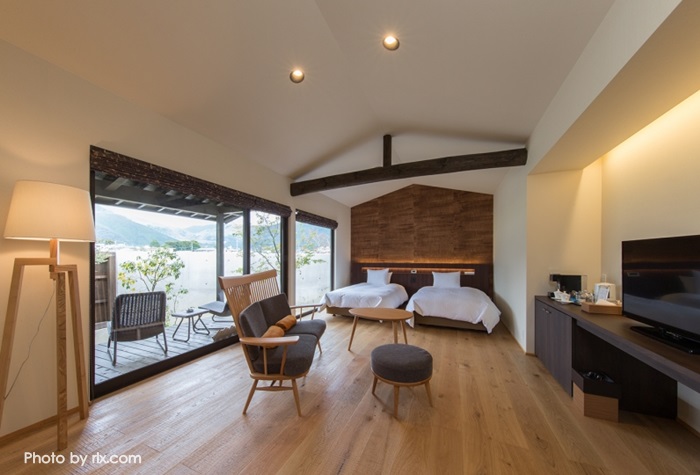 If you are going to stay here, I would recommend a room with a view of Mt. Yufu.  We fully relaxed in the room while seeing peaceful views.  It seems that some rooms don't have nice views.  We fully enjoyed our private hot spring until check-out time.  You can ask the staff to adjust the water temperature to your private one.   The room is functional, user-friendly, and spacious.
How about toiletries & in-room amenities?
All of the amenities are taken care of including enough toiletries, samue outfits, bottled water, a coffee machine with capsules, tea bags, cookies, and a Japanese tea set.  There are skincare products for men and women in the bathroom.  Then when we stayed here, there was no safety deposit box in our room.  You may want to leave your valuables at the front desk.  The free WiFi reception was excellent.  This is child-friendly.  Staff can provide cribs, baby baths, and bed rails if you request in advance.  There is a convenience store within 10min walking distance, but once you enter the property, you would be completely lazy.  You may want to buy your necessities before coming here.
How about In-house Facilities?
Facilities tend to be the latest as the property opened in 2018.    You can connect a TV to the Internet and you can use streaming services to watch many kinds of TV dramas and movies.  Unluckily, there is no communal hot spring, no lounge, and no bar on-site.  Then Yufuin Rikka is a universal design.  There is no wheelchair for borrowing on the property, though.  If you bring people with weak feet, you may want to inform the staff in advance as they can arrange a room near the entrance.
  TOP5 Accessible Ryokans in Yufuin, Kyushu

How about meals?
The Japanese fusion cuisine was just divine.  If you are a gourmet, you must be excited.  We fully enjoyed the most delicious 10-course meal in a delightful restaurant.  The portion tends to be average.  All meals are served in a private room.  Dinner starts at 18:00 or 18:30.  Breakfast starts at 8:00 or 8:30.  *Please note that inform the staff when you book a room with meals if you have any food allergies.  They probably wouldn't be able to prepare alternative food if you request on that day.  Then there are some nice restaurants in Yufuin, but I would recommend having meals on the property.  The food was good without any comparison.
  TOP5 Gourmet Ryokans in Yufuin, Kyushu

My impressions
All staff is gracious, warm, and welcoming.  They are the loveliest group.  Absolutely you can experience signature Japanese hospitality during your stay.  Overall, the property has great value for money if compared to others in Yufuin.  It's well worth a visit.  Have a nice trip!  Welcome to receive any questions about Yufuin Rikka from the below space.  *All information is as of the date that I posted on my blog.  Check Availability and Pricing for the property on Agoda or  Booking.com 
Info about Yufuin Rikka
Style

Villa-type Onsen Hotel

Check-in and out times


15:00/10:00

Estimated Price

60,000 JPY for 2 adults per room

Contact

Internet Connection

Free wifi in the property

Facility Information

Wheelchairs are available
Pets are not allowed
The free parking lot is available


Location

Yufuin Rikka's MAP

Access

5min by car from Yufuin Station


Address and TEL

Tel +81

Official Homepage

Yufuin Rikka's HP  *Japanese Only