What kind of onsen ryokan is Kaichoro?
To be frank, I wouldn't recommend Ikaho Onsen as a destination for overseas travelers, but it's truly worth staying at Kaichoro.  It seems that even local people visit Ikaho Onsen to stay here.  This is absolutory one of top-notch in Japan.  If you are looking for a luxury authentic ryokan with a private hot spring, you should stay here.  Each room has a wonderful private outdoor hot spring.  Also, if you are a gourmet, I would recommend it.  We really felt the chef's passion when we were having each dish.  This is like a hideaway for adults.  *A minimum age requirement of 18 applies.  The ambiance is serene, sophisticated, and classy.  It's like we're in another world.  We never met other guests in the building during our stay.  There are 8 rooms only.  The property would be for couples, families, groups, or solo travelers.
  TOP5 Luxury Ryokans with Private Onsen in Gunma
  TOP5 Authentic Ryokans in Gunma

Is the location easy to access?
Access to the property from Shinjuku would be easy, but it takes 150min by bus.  You can get a direct express bus from Shinjuku Expressway bus terminal or Tokyo Station Yaesu South Exit, and get off at Ikaho stone step street bus stop, and then 15min walk to the property.  Refer to the timetable.  Alternatively, a free shuttle service is available from the bus stop.  You can call upon arrival.
Where is the best accommodation for anniversaries?
If you are looking for a good place for a special occasion, the property would be one of the best.  The staff arranges flowers and cakes to celebrate an anniversary at additional charges if you request in advance.
  TOP5 Luxury Romantic Ryokans in Gunma

Rooms I would recommend?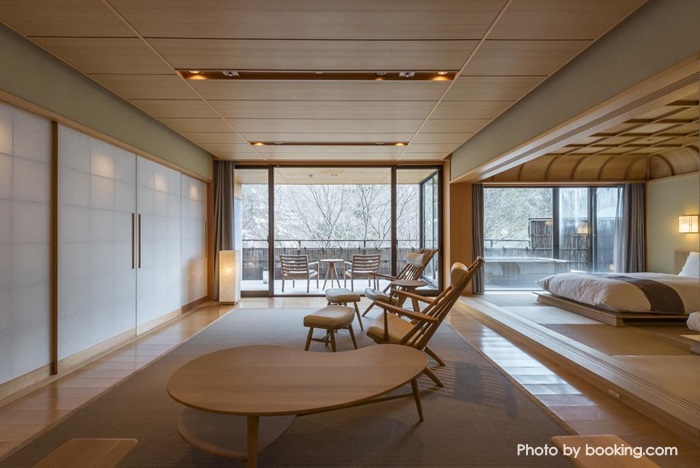 If you are going to stay here, you might want to check-in in the early afternoon and chill out in your room while soaking in your private outdoor hot spring and viewing a small traditional garden.  This is one of the best Japanese-style rooms I've ever stayed in.  Then if you don't want to sleep on Japanese-style mattresses in tatami rooms, you should book a room with twin beds.  All rooms tend to be so spacious, excellent Japanese minimalistic, and authentic.
How about toiletries & in-room amenities?
All of the amenities are taken care of including enough toiletries, yukatas, pajamas, bathrobes, complimentary minibar including beer, DVD & CD players, coffee machine, green tea set, etc.  There are Mikimoto skincare products and THANN bath amenities in the bathroom.  There are some kinds of pillows you can choose from.  Free Wi-Fi reception was good in our room.  Room service is not available.  Valet Parking is available.  You need to inform the staff of your car number in advance if you visit here by car.

How about In-house Facilities?
Facilities tend to be the latest, but there is little public space, such as no communal hot springs, no bar, and no library.  There is a small lounge only.  *Complimentary sparkling wine, Royal Blue Tea, coffee, etc., are available.  Actually, Kaichoro is located in the sister inn, Fukuichi, so you can use the public spaces including communal hot springs in the sister inn, but in Kaichoro and Fukuichi, the ambiance is completely different.  The sister inn would be a typical onsen ryokan and much more family-oriented.  You may feel reluctant to go in and out of it.
Then the property is almost universal design with lifts and a wheelchair is available for borrowing.  If you bring people with weak feet, you may want to inform the staff of it as they can arrange a room near the entrance.
  TOP5 Accessible Ryokans in Gunma

How about meals?
The kaiseki food experience for dinner and breakfast was just divine.  If you love sophisticated Japanese cuisine, you should try it.  The ingredients were very high-end including abalone, beef, sashimi, etc.  The wine and Japanese sake selections are surprisingly amazing.  In particular, it would be so irresistible to wine freaks.  A wine sommelier can advise you which one is the best with dishes.  The portion tends to be average.  All meals are served in a private room, not in each room.  The staff escorted us to the venue in our room.  Then, as far as I know, there wouldn't nice restaurants around there.  Local papa-mama shops are closing early.  You may want to book a room with meals.
  TOP5 Gourmet Ryokans in Gunma

My impressions
All staff is exceptional.  If you expect 5-star hotel service, you should stay here.  From the first moment arriving at the last minute left, we were pampered and treated like special VIP guests.  Overall, this is the most luxurious ryokan for those who want to relax in their rooms while soaking in an outdoor hot spring. I feel like I'm missing out, though, because the only public space is almost nonexistent.  At last, the best season to stay here would be in the spring and the beginning of summer.  You would be able to view beautiful mountains.  Have a nice trip!  Welcome to receive any questions about the property from the below space.  Check Availability and Pricing for the ryokan on Booking.com or Agoda
Info about Kaichoro
Style

Luxury Onsen Ryokan

Check-in and out times


15:00/12:00

Estimated Price

100,000 JPY for 2 adults per room

Contact

Call at +81 279-20-3040

Internet Connection

Free wifi in the ryokan

Facility Information

Wheelchairs are available
Pets are not allowed


Location

Kaichoro's MAP

Access

15min walk from Ikaho stone step street bus stop
Suttle service is available from the bus stop.
You can call upon arrival.


Address and TEL

Official Homepage

Kaichoro's HP
*All information is as of the date that I posted on my blog.