What kind of onsen ryokan is Syoubun?
This is like a luxury modern mountain hut with hot springs in Minakami Onsen.  If you are looking for a hideaway with private onsens in rich nature, you should stay here.  Some rooms have wonderful private ones.  On the other hand, if you are not so keen on hot springs, this is not.  There are only 10 rooms.  The ambiance is cozy-looking, tranquil, and serene.  The onsen ryokan would be great for solo travelers, couples, or families.  It seems that there are many return solo travelers as the venue would be surprisingly comfortable.
Is the location easy to access?
No, traveling from Tokyo would be a little tricky.  If this is your first time visiting Minakami Onsen, you should take an express bus from Shinjuku Expressway Bus Terminal then get off at Minakami Station Bus Stop.  It takes 240min by bus.  It's a long time, but no need to change.
Alternatively, you can take a Joetsu-Shinkansen from Tokyo Station and get off at Takasaki Station.  It takes 55min.  Then transfer to Joetsu Line and get off at Minakami Station.  It takes 65min.

Alternatively, you can take a Joetsu-Shinkansen from Tokyo Station and get off at Jomokogen Station.  It takes 70min.  Then get on a Kanetsu-Kotsu bus and get off at Minakami Station Bus Stop.  It takes 25min.  The bus fare is JPY630 per adult.

If this is your first visit to Minakami Onsen, you may want to show the below Japanese sentence to a bus driver when you get on a bus.

水上駅のバス停に着いたら、教えてください。
Kindly let me know when you reach "Minakami Station Bus Stop"
A free shuttle service from Minakami Station is available at 15:00 only.  Don't miss it.  You need to book it in advance.
*Please note that I didn't see any taxis in front of Minakami Station and Jomokogen Station.  Also, there's only about one bus every hour.  It is best to check the bus schedule in advance.
**If you are still concerned about the above information, please do not hesitate to contact me at any time in the space below.
Where is the best accommodation for anniversaries?
If you are looking for a good place for a special occasion, the property would be one of the best.  The staff can arrange cakes to celebrate an anniversary at an additional charge if you request in advance.
  TOP5 Luxury Romantic Ryokans in Gunma

Rooms I would recommend?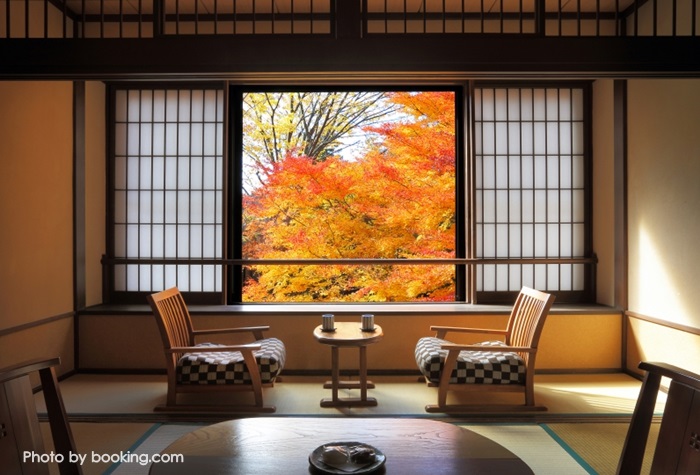 If you are going to stay here, I would recommend a room with a private outdoor onsen.  That's really wonderful.  You can chill out at the private bath while seeing peaceful views.  The water temperature was a bit lukewarm.  Then if you don't want to sleep on Japanese-style mattresses on tatami mats, you should book a room with twin beds.  Also if you bring small children, you can book rooms with private hot springs in the main building only.

How about toiletries & in-room amenities?
All of the amenities are taken care of including toiletries, yukatas, samue outfits, a Japanese tea set in each room. free WiFi reception was good in our room in the main building and the lobby when we stayed here in 2017.  A DVD player is available for borrowing.
Then, there were some kinds of complimentary Japanese sake and wine before dinner, and coffee and tea for 24 hours at the lounge.  Room service is not available.  There is no convenience store around the property.  You might want to buy your necessities before coming here.
How about In-house Facilities?
There are three private family hot springs that you can use for free whenever they are not occupied.  The indoor private family ones are open for H24.

Then this is almost a perfect universal design.  If you bring people with weak feet, you might want to inform the staff in advance.
  TOP5 Accessible Ryokans in Gunma

How about meals?
The local food experience using many local fresh ingredients for dinner and breakfast was wonderful.  The portion tends to be a bit big.  Don't forget to bring your empty stomach.  On top of that, some rice balls for a night snack were served after dinner.  All meals are served in a private room or in a dining area.  If you want to have meals in your room, you should book a room called INAKA Suite.

*Please note that inform the staff when you book a room with meals if you have any food allergies. They probably wouldn't be able to prepare alternative food if you request it on that day.
Then, as far as I know, there is no restaurant around here. You may want to book a room including meals unless you have a car.
  TOP5 Gourmet Ryokans in Gunma

My impressions
All staff is very warm, attentive, and helpful.  If you want to experience signature Japanese hospitality, it would be one of the best. If you cannot find an English speaker at the front desk, you might want to write on paper what you want to say.  Most of the staff would understand English sentences.  I hope you don't mind. 
Anyway, the onsen ryokan is very popular, especially on weekends.  If you want to chill out here, you might want to stay on weekdays.  The best season to stay here would be in spring or fall.  You can relax here while viewing beautiful rich nature.
Then the location is near Minakami Kogen Ski Resort.  Free shuttle service is available from Minakami Station.  Please ask the staff for more information if you go to the ski resort.  Have a nice trip!  Welcome to receive any questions about the property from the below space.  Check Availability and Pricing for the ryokan on Booking.com or Agoda
Info about Syoubun
Style

Mountain hut-style onsen ryokan

Check-in and out times

15:00/10:30


Estimated Price

45,000 JPY for 2 adults per room

Contact

Call at

Internet Connection

Free wifi in rooms and lobby

Facility Information

Wheelchairs are available
Pets are not allowed
The free parking lot is available


Location

Syoubun's MAP

Access

Free shuttle bus from 

Minakami Station




Address and TEL

Tel +81

Official Homepage

Syoubun's HP

  *Japanese Only
*All information above is as of the date that I posted on my blog.