What kind of hotel is Nikko Style Nagoya?
This is a stylish business hotel near Nagoya Station.  The hotel opened in 2020.  Actually, it would be hard to find a nice hotel in Nagoya city.  Most of the hotels tend to be outdated, so I was so happy when I heard that this hotel would be built.  If you are looking for a comfortable hotel around Nagoya Station, it would be one of the best.  The hotel wouldn't be romantic, not luxurious, not a special place, but a very cozy, functional, and relaxing place to stay.  On top of that, all staff is excellent.  Their hospitality is top-notch.  The hotel would be great for solo travelers, business persons, groups, or families.
  TOP5 Hotels and Ryokans for Solo Travelers in Nagoya

Is the location easy to access?
Yes, it would be easy. It takes 10min on foot from Nagoya Station.  It takes 5min by taxi.  Alternatively, it takes 5min on foot from Kokusai Center Station of Subway Sakura Dori Line. 
Rooms I would recommend?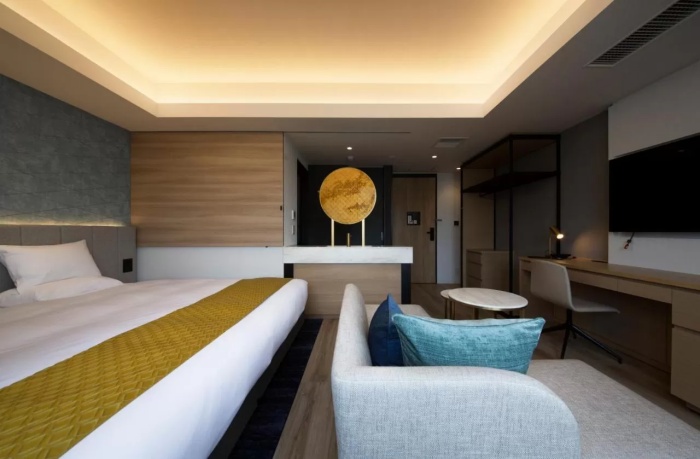 If you are going to stay here, I would recommend a premier room.  You can find a variety of items in the room to help you sleep well.  For example, bed mats, pillows, bath salts, etc.  Then views from the property were not special.  If you want to see a nice city view, you should stay at Nagoya Prince Hotel Sky Tower or Mitsui Garden Hotel Nagoya Premier.

Is this child-friendly?
Yes, the staff arranges amenities, slippers, baby cots, pajamas, etc. if you request in advance.  *One child per adult will be free of charge for co-sleep.
  TOP5 Hotels and Ryokans for Families in Nagoya

How about toiletries & in-room amenities?
All of the amenities are taken care of including enough toiletries, pajamas, an empty minibar, a drip coffee bag, and tea bag, etc.  Room service is not available.  A Geneva speaker was placed on the desk.  Video on Demind is available to watch many kinds of TV dramas and moves.  Blu-Ray players are available for borrowing.  There is a convenience store within a 5min walk.  Free Wi-Fi was available.
How about In-house Facilities?
The small gym is available for free for 24H.  You need to bring your own shoes and sportswear.  *A minimum age requirement of 18 applies. There is no spa shop, no communal bath, no business center, etc.
Then this is a universal design.  There is room for wheelchair users on 2F.  Wheelchairs are available for borrowing.  Then there is a foreign currency exchange machine.  Rental bicycles are available at JPY1,800 per day.
  TOP5 Accessible Hotels and Ryokans in Nagoya

How about meals?
We tried breakfast at Style Kitchin on 1F.  You can choose from an American-style plate, a French toast plate, or a Japanese-style plate.  Overall the food is good.  The price for breakfast is JPY3,200 per adult, JPY2,000 per child.  Breakfast is served between 6:30 and 10:00 a.m.
Then chairs and tableware for children are available in the restaurant, but there is no baby food, so you need to bring your own. 
Then there are many restaurants around there, but most of the restaurants except for fast food shops are open from 10:00 or 11:00.

My impressions
Overall, the hotel has great value for money.  If you are not sure where to stay in Nagoya, I would recommend Nikko Style Nagoya.  Check Availability and Pricing for the hotel on Booking.com or Agoda
Info about Nikko Style Nagoya
Style

Stylish Business Hotel

Check-in and out times

15:00/11:00


Estimated Price

20,000 JPY for 2 adults per room

Contact E-Mail Address

 

Fill in the form




Internet Connection

Free wifi in the hotel

Facility Information

Wheelchairs are available
Pets are not allowed
The parking lot is available at JPY1,800 per day


Location

Nikko Style Nagoya's MAP

Access

Refer to the above

Address and TEL

5-20-13 Meieki, Nakamura Ward, Nagoya,
Aichi 450-0002  Tel +81 522118050


Official Homepage

Nikko Style Nagoya's HP
*All information above is as of the date that I posted on my blog.