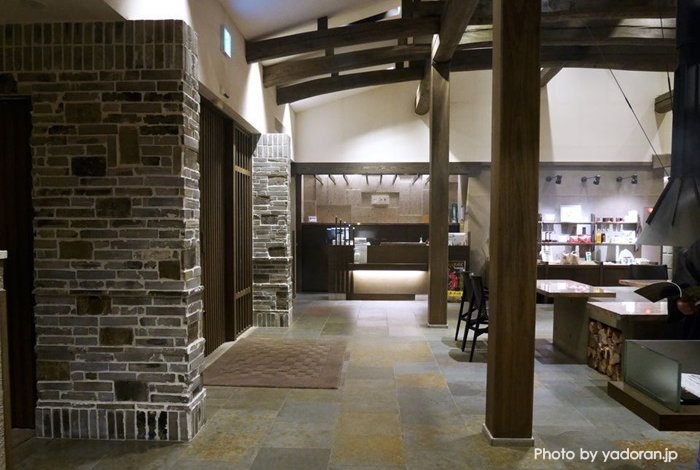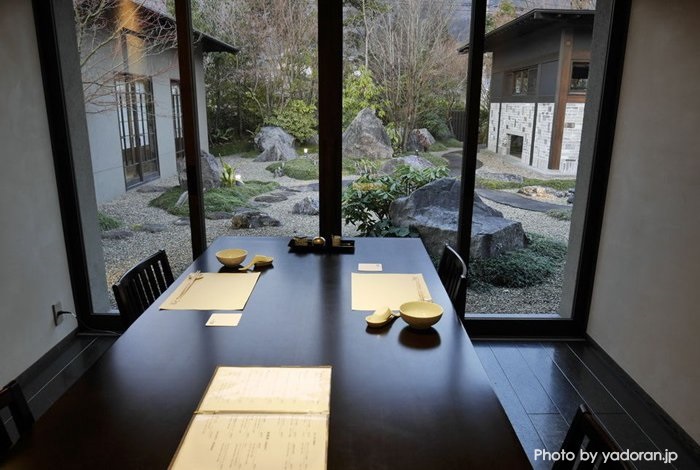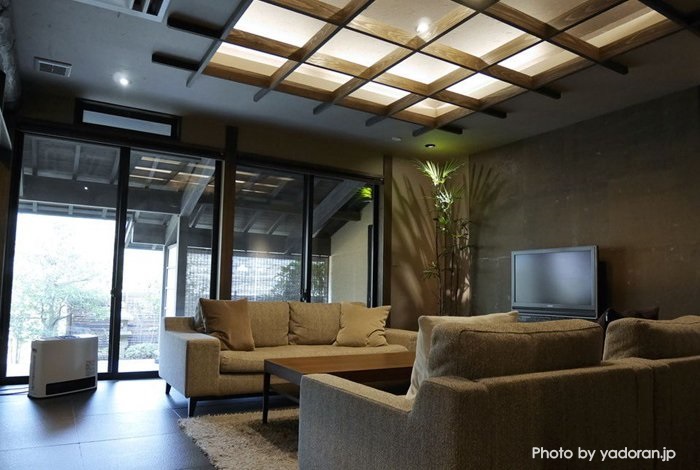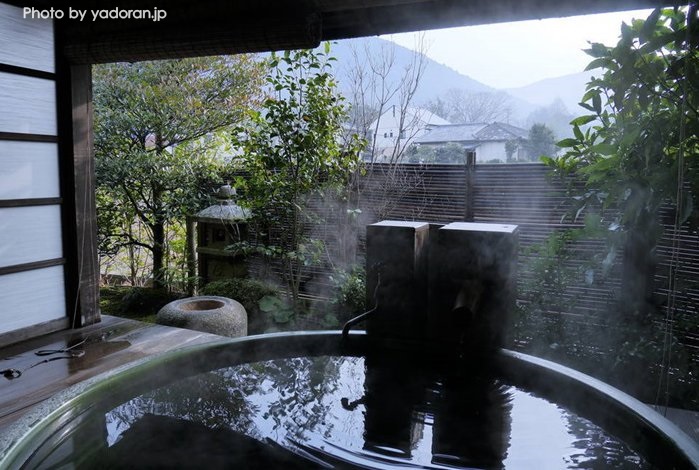 Yufuin Bettei Itsuki is located in a tranquil environment.  It's really nice to be able to escape from the crowds of people that are pulling suitcases around the main street.  If you are looking for modern villa-type rooms with private hot springs, I would highly recommend staying at Yufuin Bettei Itsuki.  This is like a luxury vacation home.  Each room has a private hot spring.  There is no communal hot spring, though.  There are 13 rooms only.  We didn't see other guests during our stay.  The property completely emphasizes private experiences for each guest.  Perhaps, if you are a gourmet, you must be happy.  This is one of the well-known auberge properties in Yufuin.  On top of that, complimentary wine, beer, Japanese sake, shochu, and fresh juice, etc., are available during meals.  In particular, they have many different kinds of wine.  Yufuin Bettei Itsuki would be great for couples, families, groups, or solo travelers. 

This is also child-friendly

.  Staff can provide meals, yukatas, and futons at an additional charge if you request in advance.  Also, I noticed that there was a diaper changing station in the restaurant.  Most of the rooms have small kitchens, microwave ovens, and tableware, etc.  The ambiance is serene tranquil and relaxed.  The room is functional, user-friendly, and cozy.  All of the amenities are taken care of including enough toiletries, yukatas, a coffee machine, water bottles, and green tea bags, etc.  There were skincare products in the bathroom. 

The Free Wi-Fi reception was excellent

.  There is no vending machine.  There is a convenience store within 15min walking distance.  Then Yufuin Bettei Itsuki is not universal design.  Wheelchairs are available for borrowing.  If you bring people with weak feet, you may want to inform the staff in advance as they can arrange a room near the entrance.  Actually, once you enter your room, you wouldn't need to move around as there is a private hot spring.  Then French-Japanese Fusion cuisine using a lot of local ingredients was wonderful.   The food tends to be sophisticated.  If you love beef, I would highly recommend ordering Bungo beefsteak dinner at an additional charge in advance.  That's amazing.  Then you can choose either Western or Japanese cuisine for breakfast.  All meals are served in a private room in the restaurant.  Also, there are 2 types of private rooms for meals, Japanese-style room or Western-style one.  If you want to request a western-style private room, you may want to inform the staff in advance.  Then if you have dinner in the property, you need to check-in by 19:00.  Dinner starts from 18:00 or 19:00.  Breakfast starts from 8:00, 8:30, or 9:00.  *Please note that inform the staff when you book a room with meals if you have any food allergies.  They probably wouldn't be able to prepare alternative food if you request on that day.  Alternatively, you can go out for dinner as there are some restaurants around

Yufuin Station

, but you may need to get a TAXI.  Then all staff is friendly.  You can experience a signature Japanese hospitality.  Overall, the property has great value for money if compared to others in Yufuin, there are many return guests all year round.  If you stay here on the weekend, you should book a room as much as possible.  Then the property is located in a residential area.  It would be hard to find it if this is your first visit.  You may want to get a taxi from Yufuin Station.  It takes just 5min by car.  It costs 800JPY.  It takes 20min on foot.  A free shuttle service is not available.  Have a nice trip!  Welcome to receive any questions about Yufuin Bettei Itsuki from the below space.  *All information is as of the date that I posted on my blog.  **Check-in and out times 3:00 PM/11:00 AM If you check-in after 17:00, you need to inform staff in advance.
Check Availability and Pricing for the property on Agoda or Booking.com
 Info about Yufuin Bettei Itsuki
Style

Modern Japanese-style Villa

Guest Rating

Superb 9.3

Estimated Price

50,000 JPY for 2 adults per room

Contact

+81 977-85-4711 from overseas




0977-85-4711 from domestic

Internet Connection

Free WiFi in the hotel

Facility Information

Wheelchairs are available
Pets are not allowed
Free parking lot is available


Location

Yufuin Bettei ITSUKI's MAP

Access

20min-walk from Yufuin Station

Address and TEL

879-5102 Oita Yufu city Kawakami
Yufuin-Cho 2652-2
Tel +81

977-85-4711  9:00-20:00 JST

Official Homepage

Yufuin Bettei ITSUKI's HP
You may be interested in other places near Yufuin.