What kind of onsen ryokan is Fukinosato?
This is a luxury Japanese-style mountain hut.  If you are a connoisseur of Japan, I would recommend it.  Fukinosato is like a hideaway for adults in rich nature.  The property emphasizes private experiences for each guest.  There are 5 rooms only.  Each room has a wonderful indoor private hot spring.  We didn't see other guests during our stay.  The property would be great for couples, families, small groups, or solo travelers.  The ambiance is serene, tranquil, and relaxed.  It's like you're in another world.  We were so welcomed warmly and escorted to a rustic modern room.  We fully enjoyed being completely lazy while soaking in our private hot spring until check-out time.
  TOP5 Ryokans for Solo Travelers in Yufuin, Kyushu

Is the location easy to access?
The location is away from the center of Yufuin town.  Access to the property would be easy, though.  Staff can arrange a taxi from Yufuin Station in advance and you don't need to pay a taxi fare.  It takes 15min by car from the station.
How about toiletries & in-room amenities?
All of the amenities are taken care of including enough toiletries, yukatas, samue outfits, and green tea bags, etc.  There are POLA amenities in the bathroom.  There is no skincare product.  Room service is not available.  There is no convenience store nearby.  You may want to buy your necessities before coming here.  The housekeeping was excellent.  If you spend a lot of time in your room, you may need some snacks, sweets, and drinks, especially during the winter season.  If it's snow heavily, you wouldn't be able to go out anywhere.  Then free WiFi reception was not available when we stayed in 2018, but now it seems that you can connect to the internet in rooms in 2019.  Also, this is child-friendly.  Staff can provide meals, tableware, and samue outfits for children if you request in advance.

How about In-house Facilities?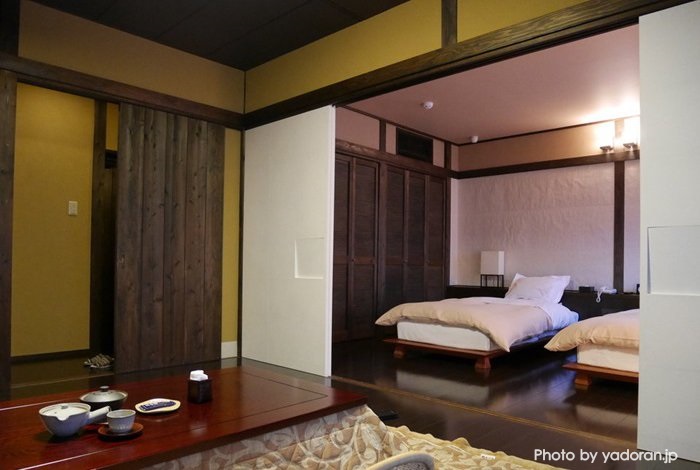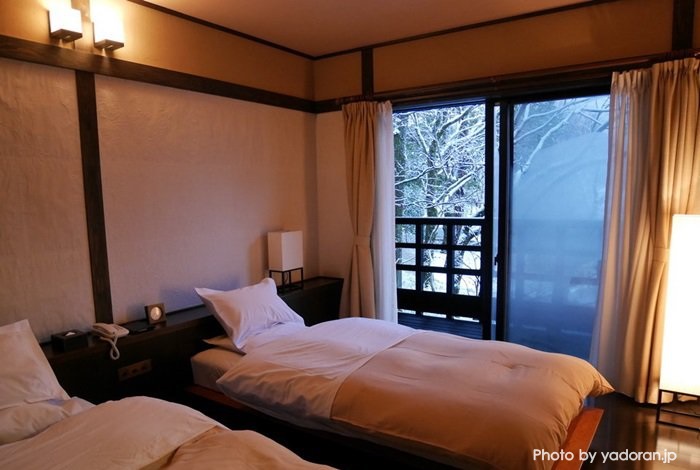 Facilities tend to be the latest.  Floor heating was installed in each room.   Also, there are amazing outdoor large communal hot springs.  You can relax in the baths while viewing a peaceful forest.  Once you try them, you may become a hot spring freak.  The spring quality is moist, smooth, and soft.  All of them are open for 24H.  Then Fukinosato is not a universal design.  If you bring people with weak feet, you may want to request a room on 1F near the front desk.  Wheelchairs are not available.  There are some steps and there is no lift, but once you enter your room, you wouldn't need to move around as there is your private hot spring.
  TOP5 Accessible Ryokans in Yufuin, Kyushu

How about meals?
The kaiseki food experience was just divine, especially Sukiyaki.  The local ingredients were high-end including beef, fish, and vegetables, etc.  All meals are served in a dining room.  The tables in the dining room are separated by dividers that provide a decent level of privacy.  *Please note that inform the staff when you book a room with meals if you have any food allergies.  They probably wouldn't be able to prepare alternative food if you request on that day.  Then, as far as I know, there is no restaurant around here.  The location is out of the way.  You may want to book a room including meals.
  TOP5 Gourmet Ryokans in Yufuin, Kyushu

My impressions
All staff is excellent, courteous, and proactive.  If you want to experience signature Japanese hospitality with a personal touch, you should stay here.  Overall, for this price, the performance of the service, food, and facilities was above our expectations.  If relaxation is your main purpose, the property would be absolutely perfect.  Anyway, the best season to stay here would be in the fall or the spring season.   You can view breathtaking landscapes while taking a walk around the property.  Then if you drive a car, check a map carefully.  There is no signboard around the property so it wouldn't be easy to find the entrance.  Have a nice trip!  Welcome to receive any questions about Fukinosato from the below space.  *If you check-in after 18:00, you need to inform the staff in advance.  Check Availability and Pricing for Fukinosato on Booking.com or  Agoda
Info about Fukinosato
Style

Japanese-style Mountain hut

Check-in and out times


15:00/10:00

Estimated Price

56,000 JPY for 2 adults per room

Contact

Call at +81 977-44-5282 from overseas
Call at 0977-44-5282 domestic Japan


Internet Connection

Probably Free WiFi in the ryokan

Facility Information

Wheelchairs are not available




Pets are not allowed


The free parking lot is available


Location

Fukinosato's MAP

Access

15min by TAXI from

Yufuin Station

Address and TEL

1200-149 Yufuincho Kawanishi, Yufu, Ōita 879-5113
Tel +81 977-44-5282

Official Homepage

Fukinosato's HP

  *Japanese Only
*All information above is as of the date that I posted on my blog.