What kind of resort hotel is Atami Club Geihinkan?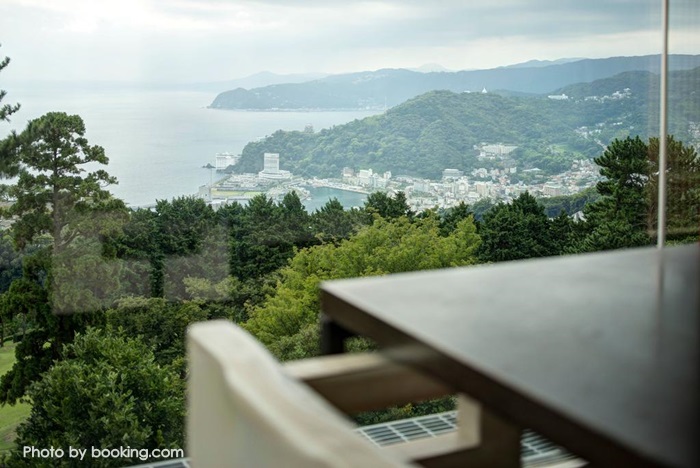 This is not a luxury resort, but cozy.  If you are looking for resort hotels with hot springs and amazing views, you should stay here.  Each room has a wonderful private hot spring.  The ambiance would be serene, modern, and tranquil.  There are 20 rooms only.  The hotel would be great for couples, families, solo travelers, or small groups.  *A minimum age requirement of 12 applies.
Is the location easy to access?
It would be easy from Tokyo.  It takes 10min by taxi from Atami Station.  It costs JPY1,500.  If you take a taxi, tell a driver "Atami Golf Club".  Most of the drivers wouldn't know that this is called Atami Club Geihinkan. Alternatively, you may want to show a taxi driver the Japanese sentence when you get in.  There is no free shuttle service.  Then if you drive a car, you should be careful.  There are some narrow steep slopes on the way to the property.
熱海ゴルフ倶楽部に行ってください。
Please take me to Atami Golf Club.
Rooms I would recommend?
If you are going to stay here, I would recommend rooms on 3F.  You can chill out at the terrace with a beer in your hand while viewing a beautiful blue ocean, clear sky, and golf course.  We fully enjoyed our private onsen while viewing Sagami Bay.  That's precious time.  The spring quality would be one of the best in Atami.  The water temperature tends to be high.  You need to add tap water before soaking in the bath.
How about toiletries & in-room amenities?
All of the amenities are taken care of including enough toiletries, bathrobes, pajamas, samue outfits, a coffee machine with capsules, bottled water, and a green tea set, etc.  There were POLA amenities in the bathroom.  The wifi reception was good in our room.  Room service is available.  There is a vending machine for drinks in-house.  There is no convenience store nearby.  You may want to buy your necessities before coming here.
How about In-house Facilities?
Overall, facilities tend to be not the latest.  The rooms tend to be spacious, modern, and functional, though.  Then there are indoor communal hot springs with mist saunas.  They are open from 6:00-9:00, 13:00-24:00.  *Please note that if you have tattoos and want to use the communal hot springs, use a private one attached in your room instead.  Then the property is a perfect universal design.  Wheelchairs are available to borrow.  If you bring people with weak feet, you may want to inform the staff in advance as they can arrange a room near the lift.
  TOP5 Accessible Hotels & Ryokans in Izu & Atami

How about meals?
The Japanese food experience for dinner and breakfast would be good, but wouldn't be special.  If you are a gourmet, I wouldn't recommend it.  The portion tends to be small.  If you are a big eater, you may want to bring some food for a night snack.  All meals are served in a dining area.  Dinner starts at 17:00 or 19:30.  Breakfast starts from 7:00-9:00.  *Please note that inform the staff when you book a room with meals if you have any food allergies.  They probably wouldn't be able to prepare it if you request it on that day.  Then there is no restaurant around here.  If you go out for meals, you need to go around Atami Station by TAXI.
My impressions
The staff is excellent.  You can experience signature Japanese hospitality during your stay.  Overall the property has good value for money if compared to others in Atami.  There would be many return guests all year round on weekends. Then if you want to chill out at the property in a tranquil atmosphere, you may want to avoid staying between late April and early May, the third week of July and late Aug, and the end of year and New Year holiday.  At last, don't forget to check the weather forecast before booking a room.  We were overwhelmed by the beauty of a sunset from the property.  It looks as if it were painted.  Have a nice trip!  Welcome to receive any questions about the property from the below space.  Check Availability and Pricing for the resort hotel on Booking.com or Agoda
Info about Atami Club Geihinkan
Style

Modern Resort Hotel

Check-in and out times


15:00/11:00

Estimated Price

40,000 JPY for 2 adults per room

Contact

E-mail  agc@izu.biz
Call at +81 557 81 6000 from overseas
Call at 0557-81-6000 domestic japan 

Internet Connection

Free Wifi in the property

Facility Information

Wheelchairs are available




Pets are not allowed




The free parking lot is available 

Location

Atami Club Geihinkan's MAP

Access

10min by taxi from Atami Station.
Tell a taxi driver "Atami Golf Club"

Address and TEL

1171 Izusan, Atami-shi, Shizuoka-ken 413-0002
Tel +81 557-82-5335


Official Homepage

Atami Club Geihinkan's HP


*Japanese Only
*All information above is as of the date that I posted on my blog.