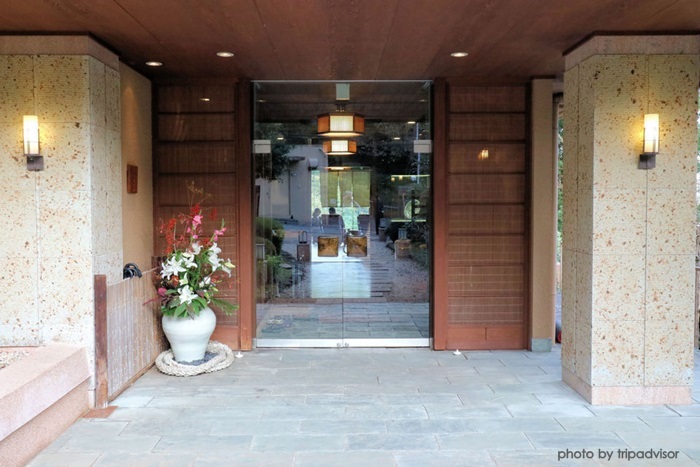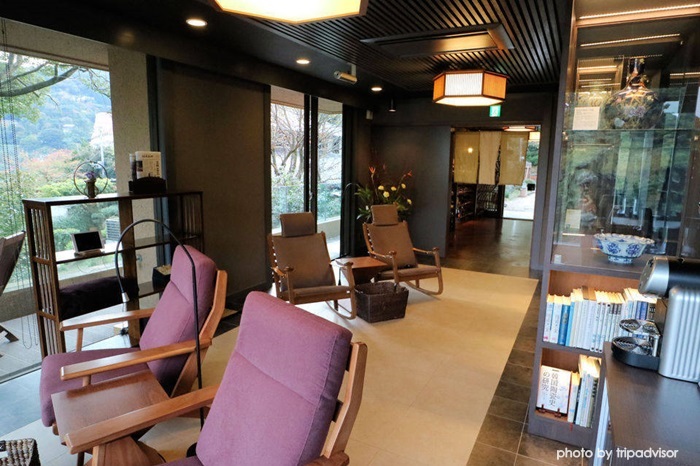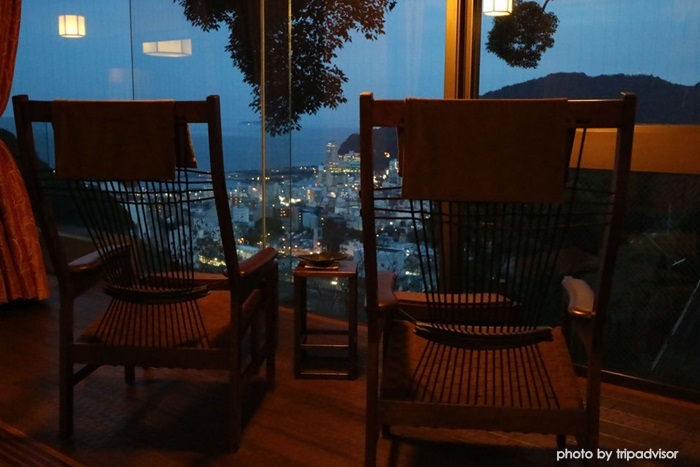 This is like a secret hideaway for adults.   If you are looking for a rejuvenating and refreshing oasis to escape the hustle and bustle of city life, I really think you should stay here.  To be frank, I wouldn't recommend Atami as a destination for overseas travelers but for those living in Tokyo, it's great getaway just 40min from Tokyo Station by Shinkansen.  The ambience is amazing.  There are 7 rooms only.  Each room has a wonderful private outdoor hot spring at the balcony.  The property would be absolutory for couples, solo travelers, business persons, small groups, but not family with small children.  *

A minimum age requirement of 13 applies

.  Everything, such as staff, hospitality, facilities, hot springs, and food, etc., was sophisticated.  If you are going to stay here, I would highly recommend booking a room called Kiritsubo.  There are many return guests who want to stay at the room.  It wouldn't be easy to book it in my experience but it's truly worth staying.  Then the private outdoor bath at the balcony is perfect.  You can chill out at the bath while viewing Atami city.  Then all rooms tend to be cramped but very relaxing.  Facilities tend to be the latest.  All of the amenities are taken care of including enough toiletries, colorful yukatas, pajamas, samue outfits, a green tea set, and a complimentary mini bar, etc.  

Wifi reception was good in the property

.  Room service is not available.  Complimentary coffee is available at the lounge.  There is no convenience store within walking distance.  You need to buy your necessities before coming here.  Then

the property is not universal design

.  There are some steep steps and there is no lift in the building.  If you bring people with weak feet, I wouldn't recommend it.  Then Japanese kaiseki food for dinner and breakfast was just divine.  The food would be equivalent of Micheline 1 or 2 starts.  It may be bit challenging for western palate but it's worth trying it.  The portion tends to be small.  All meals were served in a private room.  Dinner starts from 18:00 or 19:00.  Breakfast starts from 8:00 or 9:00.   If you have dinner in the property, you need to check in by 19:00.  *Please note that inform staff when you book a room with meals if you have any food allergies.   They probably wouldn't be able to prepare alternative food if you request on that day.  Also if you go out for meals, you would need to take a taxi unless you have a car.  There are many local restaurants around Atami Station.  Then all staff is very warm.  If you want to experience signature Japanese-specific hospitality, you should stay here.  Overall the property has good value for money.  Definitely this is a perfect venue for a weekend trip.   Anyway the best season to stay here would be except the summer season.  It's extremely hot.  You may feel reluctant to soak in your private bath in summer.  Also I wouldn't recommend visiting Atami from late April to early May, the third week of July to late Aug, and the end of year and New Year holidays.  Because everywhere, such as Atami station, restaurants, cafes, and beach, etc., in Atami city would be busy during these periods.  At last, bring your favorite books, and just forget about your day to day and enjoy being completely lazy.  Have a nice trip!  Welcome to receive any questions about the property from the below space.  *All information is as of the date that I posted on my blog.  **Check in and out times 15:00/11:00  If you check in after 18:00, you need to inform staff of it in advance.  ***Free shuttle service from

Atami Station

is available from 9:30-11:00, 15:00-18:00.  It takes 10min by car.  You need to book it in advance.  If you take a taxi from the station, it costs around 1,000JPY. 
Check Availability and Pricing for the ryokan on

Booking.com

or Agoda

Info about Watei Kazekomichi
Style

Modern Ryokan

Guest Rating

Superb 9.1

Estimated Price

40,000 JPY for 2 adults per room

Contact

info@kazekomichi.jp

Internet Connection

Free wifi in the ryokan

Facility Information

 Wheelchairs are not available
Pets are not allowed
Free parking lot is available


Location

Watei Kazekomichi's MAP

Access

10min by TAXI from

Atami Station


Free shuttle service is available


Address and TEL

28-18 Baienchō, Atami-shi, Shizuoka 413-0032
TEL +81 557-86-0260


Official Homepage

Watei Kazekomichi's HP  *Japanese Only
You may be interested in other places near Atami.