What kind of onsen ryokan is Furuya Ryokan?
This is an authentic onsen ryokan in Atami.  If you expect a 5-star ryokan service, this is one of the best in Japan.  On the other hand, if you are looking for modern ryokans, this is not.  There wouldn't be western elements.  The ambiance is relaxed, serene, and elegant.  The property would be great for family, groups, solo travelers, or couples.
  TOP5 Hotels & Ryokans for Solo Travelers in Izu & Atami

Is the location easy to access?
The free shuttle bus is not available.  It takes just 5min by Taxi *700JPY from Atami station.  Alternatively, it takes 15min on foot.
Rooms I would recommend?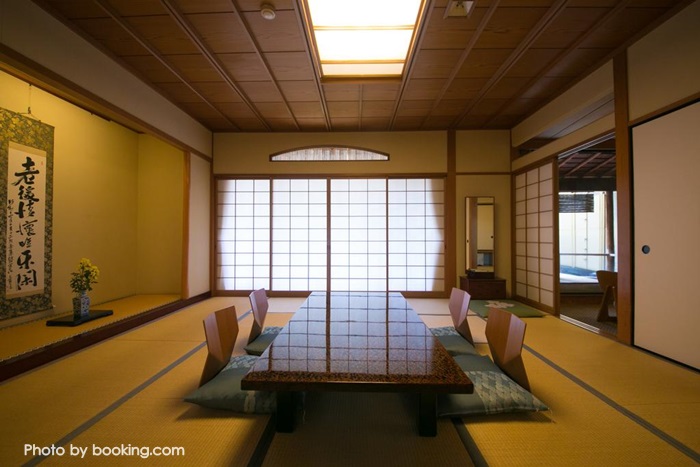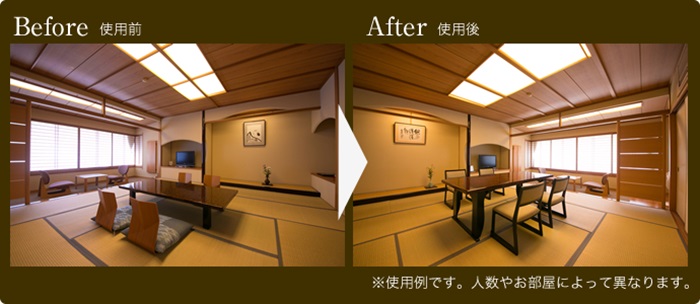 If you are going to stay here, I would recommend rooms with outdoor private hot springs.  It's truly worth it.  The rooms are spacious, functional and Japan minimalistic.  Facilities tend to be the latest.  The housekeeping was excellent.  The property has a long history, though.  Also, the staff can arrange a Japanese-style table and chairs in your room if you request.  Refer to the above photo.  Then there is no nice view as it is located in the town.  Then there is no western bed in tatami rooms so they can provide folding beds if you request.
How about toiletries & in-room amenities?
All of the amenities are taken care of including minimum toiletries, yukatas, and a green tea set, etc.  A humidifier and DVD player were placed in our room.  Room service is available from 7:00-11:00, 14:00-20:00.  Complimentary coffee is available in the lobby.  A convenience store is nearby.  There is a vending machine for Häagen-Dazs ice cream in the building.  Free Wifi reception is good and a PC is placed in the lobby for use someone.   Then this is child-friendly.  Staff can provide baby bouncers, baby baths, and microwaves for baby meals, etc. if you request in advance.
How about In-house Facilities?
There are outdoor and indoor communal hot springs.  They are open from 14:00-10:00 the following morning.  The spring quality is amazing.  It's soft, thick, and moist.   This is one of the best in Atami.  *If you have tattoos, you may not be permitted to use the public bathing area.  Then there is no bar, no lounge, or no library on-site.  Then the property is not universal design but there are few steps in-house.  A wheelchair is available for borrowing.  There are lifts.  If you bring people with weak feet, you may want to inform the staff in advance as they can arrange a room near the lift.
How about meals?
The authentic kaiseki food experience for dinner and breakfast was just divine.  If you are a gourmet, you should try it.  It may be a bit challenging for the western palate but it's worth trying it.  The ingredients were very high-end including abalone, beef, foie gras, and fish, etc., and beautiful presentation.  Also, they have a nice Japanese sake list to complement the meals.  The portion tends to be average.  After dinner, the staff provided some rice balls for a night snack in our room.  All meals are served in your room or a dining area.   *Please note that inform the staff when you book a room with meals if you have any food allergies or dietary needs.  They probably wouldn't be able to prepare alternative food if you request on that day.  Dinner starts at 19:30.  Breakfast starts at 7:30.  Alternatively, you can go out for meals as there are many local restaurants around Atami Station.
My impressions
Their hospitality would be top-notch.  If you want to experience signature Japanese hospitality with a personal touch, you should stay here.  All staff is so welcoming and helpful, however, be mindful and respectful of the Japanese traditions here as it's a very traditional ryokan.  Have a nice trip!  Welcome to receive any questions about the property from the below space.  Check Availability and Pricing for the ryokan on Booking.com or Agoda
Info about Furuya Ryokan
Style

Authentic Japanese ryokan

Check-in and out times


14:30/11:00

Estimated Price

60,000JPY for 2 adults per room

Contact

info@atami-furuya.co.jp

Internet Connection

Free wifi in the ryokan

Facility Information

Wheelchairs are available




Pets are allowed


The free parking lot is available


Location

Furuya Ryokan's MAP

Access

5min by Taxi from

Atami Station


15min walk from the station


Address and TEL

5-24 Higashi Kaigan-machi Atami-shi Shizuoka 413-0012
Tel +81 557-81-0001


Official Homepage

Furuya Ryokan's HP



All information above is as of the date that I posted on my blog.