What kind of onsen ryokan is Atami Taikanso Hotel?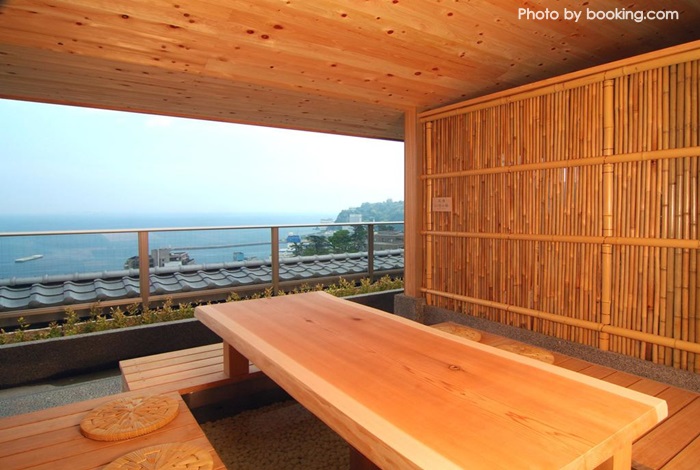 This is an authentic onsen ryokan with a traditional garden in Atami.  Once we entered the building, we felt the luxury and authenticity at once.  The stately interior, architecture, and decorations create a traditional impression.  Also, we were overwhelmed by the beauty of the garden.  There were many colored carps in a pond.  The ambiance is serene, charming, and quaint.  The property would be great for couples, groups, families, solo travelers, or business persons.
Is the location easy to access?
It would be easy.  Free shuttle service is available from Atami Station at 13:45, 14:15, 14:45, 15:15, 15:45, 16:15, or 16:45.  It takes just 5min by car.  You need to book it in advance.  If you take a taxi from the station, it costs JPY730.  There are long steep slopes on the way to the property.  It would be very hard to walk from the station.
Rooms I would recommend?
If you are going to stay here, I would recommend rooms with views of the traditional garden on 1F, a deluxe Japanese western room on 5F, or a Luxury twin room on 2F.  If you are a hot spring lover, you should stay in rooms with private hot springs.  Others wouldn't be special.  The housekeeping was excellent.  Some rooms have been recently renovated.  We stayed in a luxury twin room with an indoor private hot spring in the east building on 2F.  We fully enjoyed at the room while viewing an amazing traditional garden.  Facilities tend to be the latest.  The room is functional, modern, and comfortable.
How about toiletries & in-room amenities?
All of the amenities are taken care of including enough toiletries, yukatas, bottled water, and a Japanese tea set.  Room service is available from 14:00-23:00.  There is a convenience store nearby.  *No outside food and drinks allowed.  Free Wifi reception was basically good in the property.
How about In-house Facilities?
The property is not a universal design.  There are some steps in-house.  Wheelchairs are available for borrowing.  If you take people with weak feet, you may want to book a room with a private hot spring.  You wouldn't need to move around once you enter a room.  The property is like a maze.  There are around 7 buildings on-site.  It would be hard to move around for elderly people.  Then there are indoor and outdoor public hot springs.  They are open from 4:00-10:00, 14:00-24:00.  Also, there are three private family hot springs.  You need to book them by 17:00 on that day if you want to use them.  They cost JPY2,160 for 45min.  *If you have tattoos and want to use the public hot springs, use reserved private family hot springs, or book a room with a private one attached.  Then there are 4 wonderful foot hot springs with great views of Atami city and ocean which you can complimentary use.  Don't forget to try it during your stay.
How about meals?
The authentic Kyoto-style kaiseki food for dinner was good, but it wouldn't be special.  It may be challenging for western palates.  If you don't get used to Japanese food, you may want to go out for dinner.  There are many restaurants around Atami station.  *You need to take a taxi unless you have a car.  *Please note that inform the staff when you book a room with meals if you have any food allergies.  They probably wouldn't be able to prepare it if you request on that day.  Then you need to check in by 19:00 if you have dinner on the property.  Basically, all meals are served in a private room.  Also, you can choose either Western or Japanese cuisine for breakfast only.  Staff would come to your room and pick you up before dinner and breakfast as there are some dining areas in-house.
My impressions
The staff tends to be patchy.  If you expect 5-star hotel service, this is not.   It seems that they looked so busy during the busy season.  Overall, the price range would be reasonable.  If you want to experience the great pleasures of Japanese culture in Atami, it's well worth a visit.  Have a nice trip!  Welcome to receive any questions about the property from the below space.  Check Availability and Pricing for the hotel on Agoda
Info about Atami Taikanso Hotel
Style

Authentic Onsen Ryokan

Check-in and out times


14:00/10:30

Estimated Price

50,000 JPY for 2 adults per room

Contact

taikanso@atami-taikanso.com

Internet Connection

Free wifi in the ryokan

Facility Information

Wheelchairs are available




Pets are not allowed


The free parking lot is available


Location

Atami Taikanso Hotel's MAP

Access

Free pick up service from Atami Station
You need to book it in advance.

Address and TEL

 
TEL +81


Official Homepage

Atami Taikanso Hotel's HP
*All information above is as of the date that I posted on my blog.