What kind of hotel is THE BLOSSOM HAKATA Premier?
The hotel opened in Sep 2019.  If you are looking for a luxury stylish business hotel in Hakata, I would recommend it.  Everything would be sophisticated, such as interior, furniture, facilities, ambiance, and service, etc. 
What makes this hotel special is the wonderful lounge called HAKATA Lounge on the 14th floor. There is no food presentation, but there is a very good selection of free drinks, for example, shochu, sake, whiskey, wine, beer, cocktail, and more.  Also, tomato juice, ginger ale, coffee, tea, milk, rice crackers, nuts, chocolate, lemon cake, green tea ice cream, Perrier, cola, orange juice, and cranberry juice, etc., are available. On top of that, the lounge has a mature atmosphere and you can see the planes taking off and landing beautifully in good weather while relaxing with a wine in hand.
At the lounge, matcha *powdered green tea is served by a kimono lady after checking in, and freshly ground coffee is served in the morning. In my daily life, I don't usually have the opportunity to enjoy matcha, so I felt like I was in a luxurious ryokan.
This is a business hotel, but the service is very sophisticated. If you are going to stay here, I would recommend staying in a room with lounge access.
There were few sophisticated hotels until several years ago in Hakata, but recently there are more and more nice hotels as the number of tourists coming to Hakata increase every year.  The hotel would be great for business persons, solo travelers, couples, or groups.
  TOP5 Luxury Business Hotels in Fukuoka, Kyushu
  TOP5 Hotels and Ryokans for Solo Travelers in Fukuoka, Kyushu

Is the location easy to access?
It's a bit inconvenient. The location is near Hakata Station.  It takes 10min on foot.  If you have a lot of luggage, you may want to get a TAXI. It costs less than JPY800. The reception is on the 4th floor. CANAL City shopping mall is just near.
Rooms I would recommend?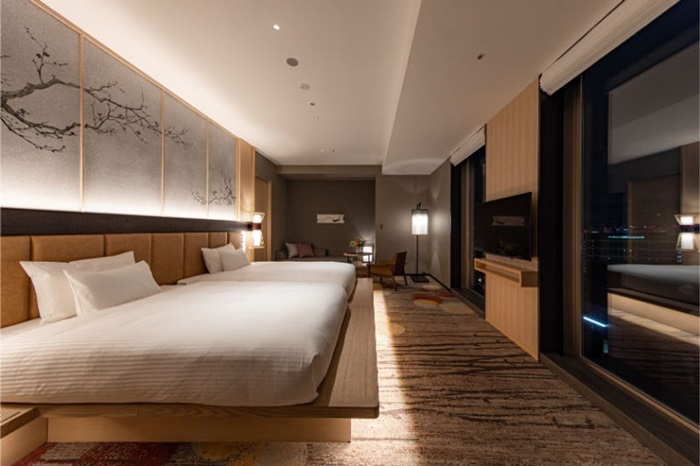 If you are going to stay here, I would recommend a room on 14F called HAKATA Floor.  As mentioned above, you can access the HAKATA lounge on 14F during your stay. If you love drinking, the lounge is like a paradise in Hakata.  A wide variety of alcoholic beverages are available in the lounge. It is open from 7:00-12:00, 15:00-21:30. 
Then the rooms and the bathrooms tend to be specious, user-friendly, and functional, but standard rooms tend to be cramped.
Overall, the view is not very good as it is located in the town. If you want to see a great view from a room in Fukuoka city, you may want to stay at Hilton Fukuoka Sea Hawk or Hotel Marinoa Resort Fukuoka.
  TOP5 Hotels and Ryokans with Great Views in Fukuoka, Kyushu

How about toiletries & in-room amenities?
All of the amenities are taken care of including enough toiletries, pajamas, bottled water, and tea bags.  There are PANPURI amenities with a jasmine scent in the bathroom.  If you stay on 14F, bathrobes, a complimentary mini-bar and a coffee machine with capsules are available too. The free WIFI reception is excellent.  Room service is not available.  There is a convenience store nearby.

Then, this is child-friendly.  The staff provides cots, bed guards, toothbrushes, slippers, and meals for small children if you request in advance.  Children under 6 years old can sleep with an adult guest for free.

How about In-house Facilities?
There are large modern indoor communal baths with saunas on 4F.  They are not hot springs, though.  They are open from 6:00-900, 15:00-25:00.  Babies out of diapers are not allowed to use communal baths. *If you have tattoos, you may not be permitted to use the communal bathing area. 
Also, there is a small gym.  You need to bring sportswear, T-shirts and shoes, etc. if you use the gym. It is open from 6:00-9:00, 15:00-25:00. 
There are vending machines and laundromats on 4F. 
Then the Hakata walking tour is held every Sunday from 9:15 AM.  The staff brings you to the old downtown area of Hakata.  If this is your first visit to Hakata, you may want to join it.  The participation fee is JPY2,000 per adult. Free for children under 6 years old

The hotel is a universal design.  There are some universal rooms for wheelchair users.  If you bring someone with weak legs, you may want to inform the staff in advance as they arrange a room near the lift.  Wheelchairs are available for borrowing.
  TOP5 Accessible Hotels in Fukuoka, Kyushu

How about meals?
The western Japanese buffet-style breakfast is wonderful at a restaurant on 2F. Breakfast is between 6:30 and 9:30. *The second floor of this building is a restaurant district.

There are many restaurants near the property, but most of the restaurants in Hakata city would be open from 11:00 AM except for cafes and fast-food restaurants.

My impressions
Overall, the hotel has great value for money.  We would definitely stay here again when we are in HAKATA.  At last, the property is popular all year round.  If you want to chill out in a tranquil atmosphere, you may want to avoid staying during Lunar New Year, late April to early May, the weekends of Oct and Nov, and the end of the year and the New Year holiday.  Have a nice trip!  Welcome to receive any questions about THE BLOSSOM HAKATA Premier from the below space. 
*The reception can hold your bags before check-in and after check-out.  **As of May 9, 2020, due to the coronavirus, the property is temporarily closed for the time being. 
Check Availability and Pricing for the hotel on Booking.com or Agoda
Info about THE BLOSSOM HAKATA Premier
Style

Stylish Business Hotel

Check-in and out times


15:00/11:00

Estimated Price

30,000 JPY for 2 adults per room

Contact E-mail address


hakata_premier@jrk-hotels.co.jp

Internet Connection

Free WiFi in the hotel

Facility Information

Wheelchairs are available




Pets are not allowed


The parking lot is available

at JPY1,500 per day




Location

THE BLOSSOM HAKATA Premier's MAP

Access

Less than 10min walk from

Hakata Station

Address and TEL

Tel +81

Official Homepage

THE BLOSSOM HAKATA Premier's HP

Still not sure where to stay in Fukuoka?
Browse through my TOP5 Ranking Lists of all the best places to stay in Fukuoka?
Or you could leave a message at the below space for advice.