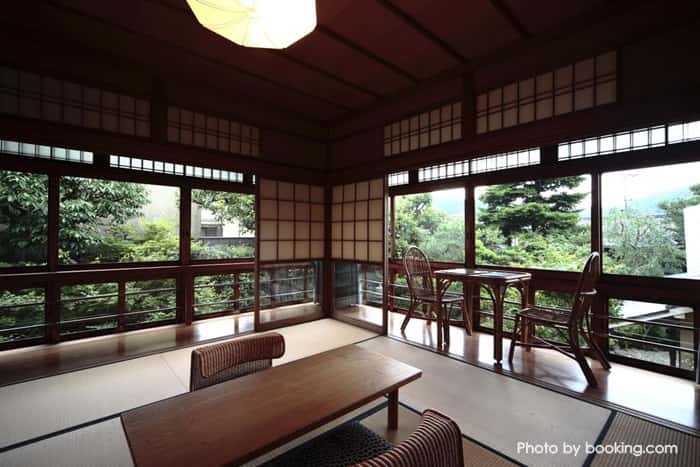 We recently stayed at Ryokan Genhouin.  Everything, such as a traditional garden, architecture, and interior, etc., is indescribably beautiful.  It's like you're in another world.  The ambiance is very charming, quaint, and serene.  The location would be definitely perfect if you love Kyoto.  The environment surrounding the property is sophisticated.  It's not great access to public transportation, though.  Actually, you wouldn't need to travel far during your stay at Ryokan Genhouin as there are many spots within walking distance.  Ryokan Genhouin would be great for couples, solo travelers, small groups, or family.  *A minimum age requirement of 12 applies.  If you are looking for an authentic ryokan adventure in Kyoto, I really think you should stay here.  Perhaps, if you are a connoisseur of Kyoto, I would highly recommend it.  On the other hand, if this is your first visit to Kyoto, I wouldn't recommend it.  Probably you may feel it's pricey for a one-night stay.  If you are going to stay here, I would highly recommend booking a room with a garden view on 1F.  It's truly worth it.  The room is not user-friendly but well-maintained, clean, and stylish.  The décor is Japan minimalistic but truly relaxing.  You can chill out at the room while seeing a wonderful garden.  You would never get tired of viewing it.  Then all of the amenities are taken care of including minimum toiletries, yukatas, and a Japanese tea set, etc.  Room service is not available.  There is a convenience store nearby. 

The free WiFi reception was good in our room

.  Then 

Ryokan Genhouin is not universal design

.  If you bring people with weak feet, you may want to book a room on 1F.  There are a few steps in a room.  Then there is a small lounge and bar in-house.  When we stayed here, the bar was closed, though.  Also, there are two private family baths in-house which you can complimentary use.  When you check-in, you need to book it in advance.  They are open from 7:30-10:00, 15:00-23:00.  There is no communal bath in-house.  Then it seems that the traditional wooden building has no latest soundproofing.  My ear sometimes caught some footsteps.  Also, there is no floor heating.  You may feel cold at night in the winter season even if you switch on the heater.  Then food for breakfast and dinner is not offered for guests who stay at the ryokan.  This is one of the Kyoto-style customs.  It is located in a residential area.  There is no restaurant around here.  You would need to get a taxi and go to Gion or somewhere for meals.  It takes just less than 10min to Gion by car.  Alternatively, I would recommend having breakfast at

The Westin Miyako Kyoto

, just 10min walk from the property.  You might want to book a table in advance.  Then you should take a walk around

the Nanzenji Temple

before breakfast.  The atmosphere would be really special as there are few people around there in the early morning.  The location is just near the hotel.  Then all staff is sociable, welcoming, and graceful but if you expect signature Japanese hospitality with a personal touch, this is not.  I hope you would be respectful and mindful as it's a very traditional ryokan.  Overall, the price range would be high for this service, but the hardware would be incomparable.  The software tends to be mediocre.  If you really want to get much of an immersive "Pure Japan" experience, I would highly recommend the property.  At last, the best season to stay here would be in spring or fall.  You can see a breathtaking traditional garden while taking a walk.  You can feel the authenticity and luxury at once.   Have a nice trip!  Welcome to receive any questions about the ryokan from the below space.  *Please note that most of the TAXI drivers may not know the property.  You might want to show a map where it's located.  *All information is as of the date that I posted on my blog.  **Check-in and out times 15:00/10:00   You need to inform staff of your expected arrival time in advance.
  Check Availability and Pricing for the ryokan on

Booking.com

or

Agoda
Info about Ryokan Genhouin
Style

Historical Japanese Ryokan

Guest Rating

Wonderful 8.9

Estimated Price

100,000 JPY for 2 adults per room

Contact

info@genhouin.co.jp

Internet Connection

Free wifi in the ryokan

Facility Information

Wheelchairs are not available




Pets are not allowed




The parking lot is available  2,000JPY for per day




Location

Ryokan Genhouin's MAP

Access

20min by TAXI from Kyoto Station
15min walk from

Keage Station




Address and TEL

606-8333 Kyoto Sakyo-Ku Okazaki
Hoshojicho 77  Tel +81

Official Homepage

Ryokan Genhouin's HP  *Japanese only