What kind of ryokan is Muromachi Yutone Kyokoyado?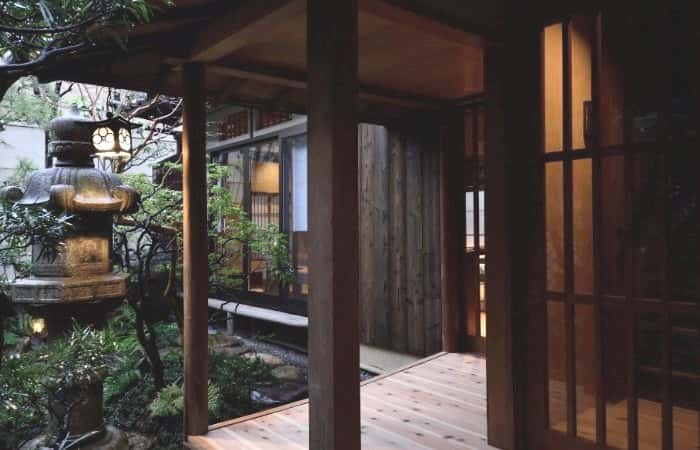 This is the kind of ryokan that makes you want to come back again and again. If you are looking for a small ryokan adventure, you may want to stay here.  There are only 7 rooms.  The ryokan is a renovated old townhouse with a relaxed ambiance.
I have stayed in Kyoto countless times, but there are very few ryokans that give me the same sense of satisfaction as this one. I feel as if I have found my own private hideaway, different from the famous hotels and ryokans.
After passing through the noren curtain and the box garden approach, you will be greeted by the elegant staff with a smile. It is a place where you can find courteous hospitality and you can feel at home. From the tastefully decorated lobby, library, and courtyard to the amenities and furnishings in the rooms, this is a ryokan that takes care of every little detail. The small reception area is covered with a gorgeous long pile carpet called Dantong.

It's hard to believe that you're in the center of the city, but it's a luxury to spend time looking out over the quiet and serene courtyard. At night, the courtyard is lit up, creating a mysterious ambiance that is different from the daytime.

If this is your first visit to Kyoto, I would recommend it.  The location is near Kyoto Station. The property would be great for couples, solo travelers, or business persons, but not families with small children.  *A minimum age requirement of 6 applies.
If I had to give one drawback, it would be the location. Although it is close to Kyoto Station, it is located in a residential area. The surrounding area may lack a Kyoto-like atmosphere. There are no special sightseeing spots nearby.
Then there is a sister inn in the Gion area called Yasaka Yutone Kyokoyado, which is almost the same as Muromachi Yutone Kyokoyado. Overall Yasaka Yutone Kyokoyado is a bit smaller, but it is in one of the best locations in Kyoto. I use them differently depending on the purpose of my trip and my schedule.
TOP5 Best Boutique Hotels and Ryokans in Kyoto
TOP5 Best Hotels and Ryokans in Higashiyama Area
TOP5 Best Hotels and Ryokans for Solo Travelers
Is the location easy to access?
It takes just 7min by TAXI from Kyoto Station and costs around JPY900.  Most of the taxi drivers wouldn't know the property and it wouldn't be easy to find it. The ryokan is located in a residential area. Please show the address and TEL No. in the below Japanese as they can enter the phone number into the car navigation system to confirm the destination.

京小宿 室町 ゆとね
〒600-8437 京都府京都市下京区徳万町
電話番号 075 342 6226
Alternatively, it takes 5min on foot from Gojo Station. Go out from Exit 2 to the ground and walk 300 meters until you see Aranvert Hotel Kyoto. Turn right at the corner and walk about 200 meters to the right side.
Then if you take a walk from Kyoto Station, it takes 20 to 25min. It's not far from Kyoto Station, but it's a bit far to walk with your luggage.
Then there is no parking at this ryokan. If you are visiting by car, please contact the staff in advance. Parking is very expensive in Kyoto, just like in Tokyo, but they will tell you about cheaper coin-operated parking.
TOP5 Best Hotels and Ryokans near Kyoto Station
Rooms I would recommend?
If you are going to stay here, I would recommend a room on the first floor called "Usuzakura" which has a small garden inside. The room is charming, quaint, and cozy. It tends to be small, but the ambiance is very nice and you can fully enjoy the feeling of being in Kyoto. The room is next to the small library, which is convenient.
Each room has a bathtub made of Japanese cypress. The scent of Japanese cypress stimulates the senses and helps you relax.
How about toiletries & in-room amenities?
All of the amenities are taken care of including enough toiletries, yukatas, pajamas, bathrobes, a coffee machine with capsules, a Japanese tea set, and a complimentary minibar, etc.  There are L'Occitane bath amenities and POLA skincare products in the bathroom. Also, a humidifier is placed in each room.  Room service is not available.  The free WiFi reception was good in the building.  There is a PC placed near the reception. There is a convenience store nearby.

How about In-house Facilities?
This is not a universal design.  If you bring someone with weak legs, you may want to request a room on 1F.  There is no lift.  There is no wheelchair for borrowing.
Then there is a small library on 1F.  Complimentary coffee, tea, matcha green tea, and sweets, etc. are available.  You can chill out here while drinking and eating after a long day out. Overall, facilities tend to be the latest.  There is no communal bath, no swimming pool, no gym, etc.
TOP5 Best Accessible Hotels in Kyoto
How about meals?
This is one of the best auberge ryokans in Kyoto.  Kyoto-style kaiseki food is top-notch. The meals were beautiful to the eye and each dish was carefully prepared and very tasty. I was impressed by the delicate flavoring of the dish, which used a lot of Kyoto vegetables.
There are many restaurants around Kyoto Station, but if you stay here, you may want to try dinner and breakfast.  It's well worth it.  *Please note that inform the staff when you book a room with meals if you have any food allergies or dietary needs.  They probably wouldn't be able to prepare alternative food if you request on that day.
Then you can choose either Western or Japanese cuisine for breakfast.  You need to inform the staff of it when you book a room.
All meals are served in a dining area.  Dinner starts between 18:00 and 19:30.  If you have dinner on the property, you need to check-in by 18:00.  Breakfast starts between 8:00 and 9:00.
  TOP5 Gourmet Ryokans in Kyoto
My impressions
Prices are generally high in Kyoto, but I think the cost performance here is quite good. Prices may vary depending on the time of year and day of the week, but compared to other accommodations, this one far surpasses them in both hardware and software.
At last, if you stay here, you may want to visit Nishi Honganji Temple and Higashi Honganji Temple before breakfast.  Two of them are located nearby, just a 15min-walk.  The ambiance would be very special in the early morning.  The early bird catches the worm!
Have a nice trip!  Welcome to receive any questions about the property from the below space.  If you check-in after 19:30, you need to inform the staff in advance.   Check Availability and Pricing for the ryokan on Booking.com or Agoda
Info about Muromachi Yutone Kyokoyado
Style

Small Machiya-Style Ryokan

Check-in and out times


14:00/11:00

Estimated Price

34,532 JPY for 2 adults per room

Contact to the ryokan

Fill the form in

Internet Connection 

Free wifi in the ryokan

Facility Information

Wheelchairs are not available




Pets are not allowed




The parking lot is not available




Location

Muromachi Yutone Kyokoyado's MAP

Access

 5min by TAXI from JR Kyoto Station

Address and TEL

600-8437  199 Tokuman-cho,
Muromachi Shimmachinoma,
Matsubara Sagaru, Shimogyo-Ku, Kyoto
Tel +81-75-342-6226

Official Homepage

Muromachi Yutone Kyokoyado's HP
*All information above is as of the date that I posted on my blog.

Still not sure where to stay in Kyoto?
Browse through my TOP5 Ranking Lists of all the best places to stay in Kyoto.
Alternatively, you could leave a message at the below space for advice.