What kind of onsen ryokan is Mozumo?
If you are looking for a refreshing and rejuvenating oasis in Hida Takayama, I would recommend it.  This is like a hideaway for adults.  We didn't see other guests during our stay.  The property completely emphasizes private experiences for each guest.  There are 10 rooms only.  Each room has a wonderful private hot spring.  The spring quality is amazing.  It's like skin lotion, very thick, moist, and soft.  Once you try it, you may become a hot spring freak.  On the other hand, if you are looking for traditional mountain huts, this is not.  Also, if you bring children, you may want to find others.  *A minimum age requirement of 20 applies.  Mozumo would be great for couples, solo travelers, or small groups.  The ambiance is serene, tranquil, and relaxed.
  TOP5 Ryokans with Private Onsen in Gifu
  TOP5 Modern Ryokans in Gifu

Is the location easy to access?
The location would be a bit inconvenient.   You can take a Nohi Bus from Matsumoto bus terminal near Matsumoto Station.  Then get off at Hirayu Onsen Bus Stop.  Alternatively, you can take a Nohi Bus from Takayama bus terminal in front of Takayama Station.  Then get off at Hirayu Onsen Bus Stop.  If this is your first visit Hirayu Onsen area, you may be worried about where you should get off so you may want to show the below Japanese sentence to a bus driver when you get on a bus.  You wouldn't miss the bus stop even if you fall asleep.
平湯温泉のバス停に着いたら、教えてください。
Kindly let me know when you reach "Hirayu Onsen Bus Stop."
Then free shuttle service is available from

Hirayu Onsen Bus Stop

.  You need to book it in advance.  If you visit in the winter season, I wouldn't recommend driving a car due to heavy snow unless you are a local.  You may want to use public transportation as much as possible.
Rooms I would recommend?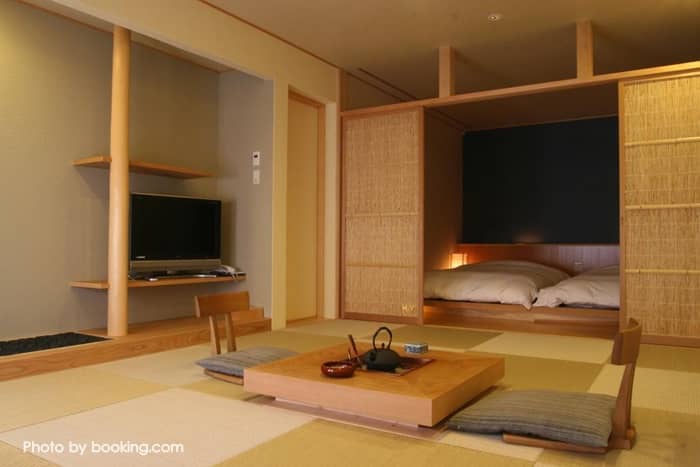 There are 2 types of rooms, one is called Shinra, and the other is called Rokuju.  The former is more spacious than the latter.  The décor is Japan minimalistic.  Interior, furniture, and decorations tend to be sophisticated.  You can chill out at the terrace while viewing a peaceful forest.
How about toiletries & in-room amenities?
All of the amenities are taken care of including enough toiletries, yukatas, pajamas, and a Japanese tea set, etc.  Free Wifi reception was good in the property.  Room service for drinks only is available until 21:00.  There is no vending machine.  There is no lounge, no bar, and no library to relax while drinking and eating.  There is no store in-house where you can buy something to eat.  That's too bad.  On top of that, there is no convenience store nearby.  You may want to buy your necessities before coming here.
  TOP5 Accessible Ryokans in Gifu

How about In-house Facilities?
There are small communal outdoor hot springs in-house.  They are open from 15:00-9:00 the following morning.  *If you have tattoos, you may not be permitted to use the communal bathing area.  Then Mozumo is not a universal design and there are some steps.  If you bring people with weak feet, you might want to inform the staff in advance as they can arrange a room near the entrance.  Actually, there are few public areas in-house.  Once you enter your room, you wouldn't need to move around.
How about meals?
The local cuisine for dinner and breakfast was wonderful.  If you love Hida beef, you must be happy.  The portion tends to be average.  If you stay in a room called Shinra, all meals are served in your room.  If you stay in a room called Rokuju, they are served in a private room.  *Please note that inform the staff when you book a room with meals if you have any food allergies.  They probably wouldn't be able to prepare alternative food if you request on that day.  Then there is no restaurant around the property.  The location is out of the way.  You may want to book a room including meals.    Dinner starts at 18:00 or 18:30.  You need to check in by 18:00 if you have dinner on the property.  If not, you need to check in by 20:00.
My impressions
The staff tends to be not sophisticated.  If you expect signature Japanese hospitality, this is not.  Overall, service tends to be minimum required, but absolutory the venue would be perfect if you want to enjoy being completely lazy and recharge your batteries.  Have a nice trip!  Welcome to receive any questions about the property from the below space.  *You need to show your photo ID and credit card upon check-in.  Check Availability and Pricing for Mozumo on Booking.com or Agoda
Info about Mozumo
Style

Modern Japanese-style Ryokan

Check-in and out times


15:00/10:00

Estimated Price

45,000 JPY for 2 adults per room

Contact

 Call at 0578-89-2020 from domestic
Call at +81 578-89-2020 from overseas
Open time 9:00 – 21:00 JST


Internet Connection

Free Wifi in the property

Facility Information

Wheelchairs are not available




Pets are not allowed


The free parking lot is available


Location

Mozumo's MAP

Access

Free pick-up service from

Hirayu Onsen Bus Stop


*Need to book in advance


Address and TEL

506-1433 Gifu Takayama Okuhida Onsengo
Hirayu 579-1 Gifu 506-1433  Tel +81 578-89-2020

Official Homepage

Mozumo's HP
**All information above is as of the date that I posted on my blog.