What kind of city hotel is Hotel The Celestine Kyoto Gion?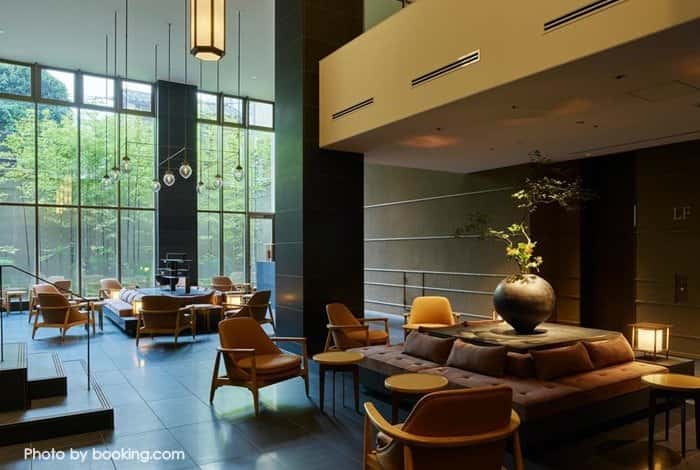 Some people sometimes ask me "I want to stay in the southern Higashiyama area but there are only ryokans around there.  Do you know where modern hotels are in the area?"  I understand that most of the authentic ryokans have only limited facilities.  Some people wouldn't appreciate it.  Also if you bring small children or elderly parents, you may prefer hotels to ryokans.  If so, I would recommend Hotel the Celestine Kyoto Gion.  It opened in Sep 2017.  This is not a luxury.  If anything, the property is a modern business hotel.  The location is absolutory perfect, near Kiyomizu Temple, Gion, and Kodaiji Temple, etc.  You wouldn't need to travel far during your stay here.  There are many spots within walking distance.  The neighborhood would be very special if you walk toward Kiyomizu Temple just 5min.   You would definitely feel very much Kyoto.
  TOP5  Luxury Business Hotels in Kyoto
  TOP5  Hotels and Ryokans in Higashiyama Area
  TOP5  Hotels & Ryokans for Solo Travelers in Kyoto
Is the location easy to access?
The location wouldn't be convenient, but a free shuttle service is available from the Hachijo Exit of Kyoto Station.  Refer to the timetable.  Alternatively, it takes less than 10min by TAXI from the station.  It costs around 1,000JPY.  *Please note that the property is bland new in Kyoto.  Most of the TAXI drivers wouldn't know it.  You might want to show a map of where it is located. 
Rooms I would recommend?
If you are going to stay here, I would recommend spacious rooms as much as possible.  Most of the rooms tend to be cramped but very functional, cozy, and clean.  There is no nice view from most of the rooms.  For the location, I can't complain more.
How about toiletries & in-room amenities?
All of the amenities are taken care of including enough toiletries, yukatas, bathrobes, a Japanese tea set, and a coffee machine with capsules, etc.  Then Hotel The Celestine Kyoto Gion is child-friendly.  Baby cribs are available for borrowing if you request in advance.  Room service is not available.  There are some convenience stores nearby.  Free WiFi reception was patchy, especially in the evening.
How about In-house Facilities?
The property is a universal design.  There is room for wheelchair users and wheelchairs are available for borrowing.  If you bring people with weak feet, you may want to inform the staff in advance as they can arrange a room near the lift.  Then the lounge is open from 13:00 to 18:00.   Complimentary coffee, tea, and snacks, etc., are available.  The lounge becomes a bar after 18:00.  Then there are large communal baths on B1.  They are open from 6:00-10:00, 15:00-26:00.  *If you have tattoos, you may not be permitted to use the public bathing area.
  TOP5  Accessible Hotels in Kyoto

How about meals?
The breakfast was wonderful.  If you love deep-fried fish and vegetables called "Tempura", you should try it.  Breakfast time is from 6:30 to 10:30.  The restaurant was busy when I stayed in 2018.  You may want to go down before 7 AM.  Alternatively, you can go out for meals as there are many restaurants around the Gion area.  It takes around 15min on foot from the property to Gion.  Then most of the restaurants and the cafes in Kyoto city are open from 10 or 11 AM.  You may want to book a room with breakfast.

My impressions
The staff tends to be not sophisticated.  Also, there would be a shortage of staff, especially during the busy season.  If you expect signature Japanese hospitality, this is not.  When we checked out, we needed to wait in the lobby for a long time.  Most of the guests tried to check out a little before 12:00.  Everybody thinks the same.  You should check out a little early.  Then if you cannot find English speakers at the reception, you might want to write on paper what you want to say.  Most of the staff would understand English sentences.  I hope you don't mind.  Overall, the property has great value for money even though the location is perfect.  We would definitely return again.  At last, don't forget to take a walk around the Kiyomizu Temple before breakfast or after dinner.  The atmosphere would be amazingly special.  There would be almost no people around there in the early morning and at night.  You can see "Pure Kyoto".  Have a nice trip!  Welcome to receive any questions about the hotel from the below space.  Check Availability and Pricing for the hotel on Booking.com or Agoda
Info about Hotel The Celestine Kyoto Gion
*All information above is as of the date that I posted on my blog.