What kind of hotel is Saka Hotel Kyoto?
This is a nice boutique modern ryokan.  There are 38 rooms only.  If you love Kyoto like me, you should stay here.  The location is definitely perfect.  Access to the property from Kyoto Station would be inconvenient unless you take a taxi, but the atmosphere around the property is very much Kyoto.  Also, there are many attractive spots within walking distance.  Perhaps, if this is your first time staying at modern ryokan-style hotels, Saka Hotel Kyoto would be one of the best in Kyoto.  Overall, facilities tend to be the latest.  On the other hand, if you are looking for an authentic ryokan adventure, this is not.  Saka Hotel Kyoto tends to be stylish, modern, and functional.    The hotel would be great for couples, small groups, solo travelers, business persons, or families with small kids.
  TOP5  Hotels and Ryokans in Higashiyama area
  TOP5  Boutique Hotels & Ryokans in Kyoto
  TOP5  Hotels & Ryokans for Solo Travelers in Kyoto
Is the location easy to access?
If you take a taxi, it's easy.  It takes 10min from Kyoto station.  It costs about 1,500JPY.   *Please note that Saka Hotel Kyoto is brand new.  Most of the TAXI drivers wouldn't know it.  You might want to show a map where it is located.  On top of that, it wouldn't be easy to find the entrance of the property.  Check your map carefully.
Rooms I would recommend?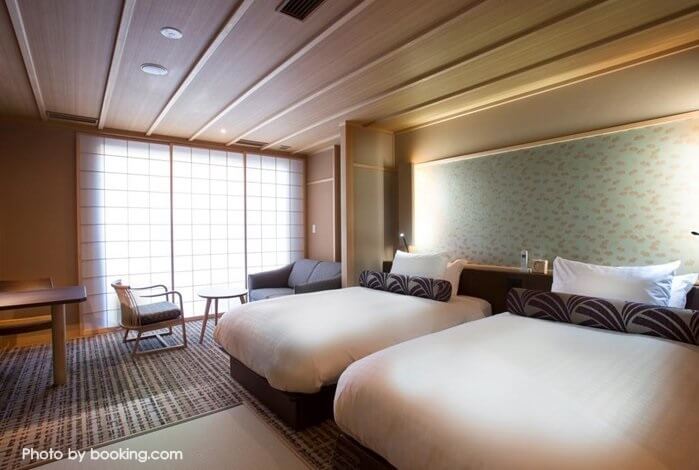 If you are going to stay here, I would recommend spacious rooms as much as possible.  Some rooms tend to be cramped.  Also, most of the rooms have no nice views, but for the location, I can't complain more.  Then if you don't want to sleep on Japanese-style mattresses called futon, you should book western-Japanese rooms with twin beds.
How about toiletries & in-room amenities?
All of the amenities are taken care of including enough toiletries, yukatas, pajamas, a Japanese tea set, a coffee machine with some capsules, etc.  Also, this is child-friendly.  The staff provides amenities, such as bouncers, diaper pails, baby shampoo, and soaps, etc.  Room service is available.  Complimentary drinks and food, such as wine, coffee, tea, soft drinks, snacks, and popsicles, etc., are available at the lounge on 3F.  You can chill out there while drinking and eating whenever you like.  The lounge is open from 7:00-24:00.  *Complimentary alcoholic beverages are available from 16:00-18:00 only.  Free Wifi reception was good in the building.
How about In-house Facilities?
There is no communal bath, but there are two unique private family baths.  One is called the Japanese Sake bath, and the other is the Yuzu bath.  They are not hot springs, though.  You need to book when you check-in if you want to use them.  It costs 4,320JPY for 50min.  They are very popular.  First come, first served.  They are open from 7:00-10:00, 15:00-24:00.  You can fully enjoy soaking in the baths while viewing Yasaka pagoda after a long day out.  That's amazing!  Then the hotel is almost universal design.  There is room for wheelchair users.  Wheelchairs are available for borrowing.  If you bring people with weak feet, you might want to inform the staff in advance as they can arrange a room near the lift.  Then there is a convenience store nearby.
  TOP5  Accessible Hotels in Kyoto

How about meals?
kaiseki food experience for dinner was good, but it wouldn't be special.  On top of that, we needed to wait for a long time until all dishes were served.  On the other hand, Japanese cuisine for breakfast was wonderful.  Breakfast is from 7:00-9:00.  Dinner is from 17:30-21:30.  All meals are served in a private room in a restaurant.  *Please note that inform the staff when you book a room with meals if you have any food allergies.  They wouldn't prepare alternative food if you request on that day.  Alternatively, you can go out for meals as there are many restaurants around the Gion area.
My impressions
The staff tends to be not sophisticated but warm, helpful, and friendly.  If you expect 5-star hotel service, this is not.  Overall, the property has good value for money if compared to others in Kyoto.  If you want to get much of an immersive Kyoto experience, the hotel would be perfect.  At last, don't forget to visit Kiyomizu Temple in the early morning before breakfast or after dinner.  It takes just 5min on foot.  The temple is open from 6:00 AM.  As you may know, the temple is always very crowded in the daytime but there would be almost no people around there before 8:00 AM and after 8:00 PM.  You can see "true Kyoto".  It's well worth a visit.  Have a nice trip!  Welcome to receive any questions about Saka Hotel Kyoto from the below space.  You need to inform the staff of your expected arrival time in advance.  Check Availability and Pricing for the hotel on Booking.com or Agoda
Info about Saka Hotel Kyoto
Style

Modern Japanese Hotel

Check-in and out times


15:00/11:00

Estimated Price

 30,000 JPY for 2 adults per room

Contact E-mail

Call at

0799-22-2521

from domestic
Call at +81

799-22-2521

from overseas

Internet Connection

Free wifi in the hotel

Facility information

Wheelchairs are available




Pets are not allowed


The free parking lot is available
*You need to book it in advance
Availability is limited.


Location

Saka Hotel Kyoto's MAP

Access

10min TAXI from

JR Kyoto Station

.


Address and TEL


Tel +81

Official Homepage

Saka Hotel Kyoto's HP
*All information above is as of the date that I posted on my blog.