What kind of onsen hotel is Bessho SASA Hotel?
This is one of the best luxury modern onsen ryokans with amazing views of Mt.Fuji.  It's like you're in another world.  If this is your fast time staying at ryokans, you should stay here.  Facilities tend to be the latest.  Each room has a great outdoor private hot spring.  On the other hand, if you are looking for an authentic ryokan adventure, this is not.  The property would be great for family, couples, or groups, but not solo travelers.   After check-in, we visited a tea house in the garden.  A lady staff in Kimono who made complimentary ceremonial green tea with Japanese sweets.  The welcome tea is between 13:30 and 18:00.  Overall, there are a variety of facilities, interesting activities, and hot springs in the property.  Also, there is an amazing large garden.   You wouldn't need to go out until check-out time.  You may want to check-in early as much as possible.
  TOP5 Hotels & Ryokans with Private Onsen near Mt.Fuji
  TOP5 Romantic Hotels & Ryokans with Mt. Fuji Views
  TOP5 Hotels & Ryokans for Solo Travelers
Is the location easy to access?
Yes, it would be easy from Tokyo, Osaka, and Nagoya, etc.  Shuttle service is available from  Mishima Station at 12:45, or Gotemba Station at 13:45.   It costs 2,500JPY for a return ticket from Mishima Station, and 1,500JPY for a return ticket from Gotemba Station.  You need to book it in advance by e-mail sasa@kaneyamaen.co.jp   Alternatively free shuttle service is available from Mt.Fuji Station.  You don't need to book it in advance if you get on a free shuttle bus from Mt.Fuji Station, but you need to call at 0555-22-3168 when you reach the station.
Rooms I would recommend?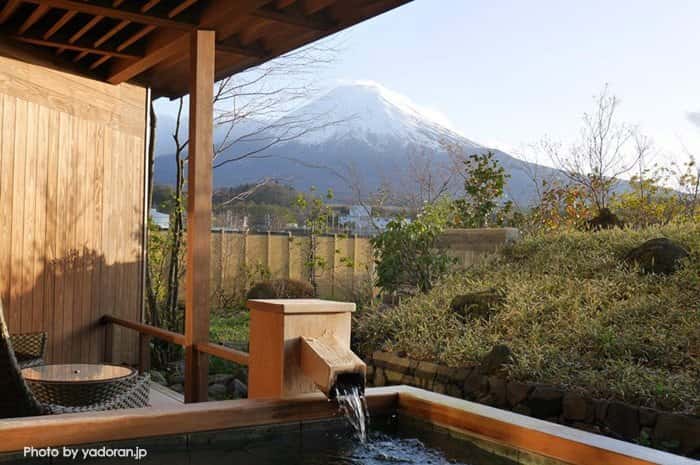 If you are going to stay here, I would recommend rooms with nice views of Mt.Fuji and private outdoor hot springs called Fukuchi or Asumi.  Those rooms are surprisingly awesome, spacious, and modern.  You can fully enjoy viewing a huge Mt.Fuji in good weather beyond your imagination.  We fully enjoyed our private bath while viewing a stunning Mt.Fuji.  That's precious time.
How about toiletries & in-room amenities?
All of the amenities are taken care of including enough toiletries, yukatas, pajamas, samue outfits, bathrobes, a coffee machine with capsules, a green tea set, tea bags, and bottled water, etc.  You can travel light.   Complimentary fresh drinks, wine, sweets, and fruits, etc., were available.  Only complimentary alcoholic beverages were served until 18:00.  The cozy lounge is open from 7:00-24:00.  Also, I noticed that a PC was placed to use someone at the lounge.  Free Wifi reception was good in our room.  Then there is no convenience store nearby.  You may want to buy your necessities before coming here.
How about In-house Facilities?
There are large communal indoor and outdoor hot springs with superb views of Mt.Fuji on the rooftop on 10F.  They are open from 5:00-10:00, 14:30-18:30.  Also, there are wonderful communal indoor and outdoor hot springs on 1F.  They are open from 5:00-9:00, 11:00-26:00.  On top of that, there are garden communal hot springs.  They are open from 6:00-11:00, 13:00-24:00.  Then there is a private family hot spring.  It costs 3,240JPY for 60min.  You need to book it in advance.   *Please note that if you have tattoos and want to use the communal hot springs, use reserved private family one.  Then Bessho SASA Hotel is a universal design.  Wheelchairs are available for borrowing.  If you bring people with weak feet, you might want to inform the staff in advance as they can arrange a room near the lift.  Then there is an outdoor swimming pool in the garden.  It's available from 9:30-17:00 between mid-July and late Aug.  *A minimum age requirement of 6 applies.
  TOP5 Accessible Hotels & Ryokans with Mt.Fuji Views

How about meals?
The kaiseki food experience for dinner and breakfast was just divine.  The food tends to be sophisticated.  The ingredients were very high-end including fish, lobsters, and beef, etc.  The portion tends to be big.  You won't be able to resist even you are full.  Dinner was served in our room.  Then you can choose either western, Japanese, or buffet-style cuisine for breakfast.  Also, you can choose your room or a dining area.  *Please note that inform the staff when you book a room with meals if you have any food allergies.  They probably wouldn't be able to prepare alternative food if you request on that day.  Then, as far as I know, there is no nice restaurant around the property.  The location is out of the way.  You may want to book a room including meals.  Then after dinner, the performance of Japanese drums is held from 20:30 every day.  Don't miss it.  Also, the bar on 2F is truly wonderful.  The piano live is held from 21:10 to 21:40.  You can drink while viewing an incredible illuminated garden and listening to a piano performance.  It couldn't be better.  The bar is open from 21:00 to 23:30.
  TOP5 Gourmet Hotels & Ryokans with Mt.Fuji Views

My impressions
Most of the staff tend to be professional, elegant, and proactive.  You can experience signature Japanese hospitality during your stay.  Then, don't forget to explore in a well-kept traditional garden.  This is a spectacular place to take a walk all year round.  You can appreciate the old-world beauty of the garden.  Have a nice trip!  Welcome to receive any questions about Bessho SASA Hotel from the below space.  Check Availability and Pricing for the onsen hotel on Agoda
Info about Bessho SASA Hotel
Style

Modern Japanese Hotel

Check-in and out times

14:00/11:00


Estimated Price

71,000 JPY for 2 adults per room

Contact E-mail


sasa@kaneyamaen.co.jp

Internet Connection

Free wifi in the hotel

Facility Information

Wheelchairs are available




Pets are not allowed


The free parking lot is available


Location

Bessho Sasa Hotel's MAP

Access

Free Shuttle bus from Mt.Fuji Station


Address and TEL

6283 Kamiyoshida, Fujiyoshida-shi,
Yamanashi 403-0005
Tel +81 555-22-3168 Open Time 8:00-20:00 *JST

Official Homepage

Bessho Sasa Hotel's HP
*All information above is as of the date that I posted on my blog.