What kind of resort hotel is HOSHINOYA Fuji?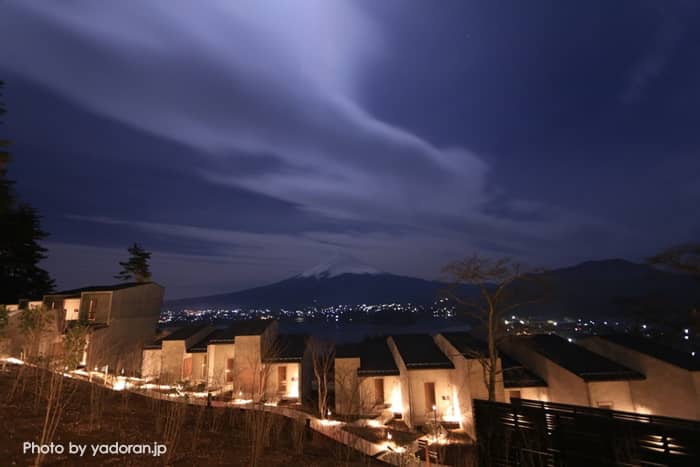 This is a modern mountain villa-style hotel with Mt. Fuji views.  If you are looking for sophisticated glamping adventures with Mt.Fuji views, I would recommend staying here.  Even adults can fully enjoy it here.  Perhaps, if want to get much of an immersive "Mt.Fuji view", you should stay here.  Once you enter the property, you wouldn't need to go out until check-out time.  The property is a lovely place to refresh in rich nature.  Everything, such as architecture, furniture, interior, environment, and lighting design, etc., is amazingly well-considered.  The ambiance is romantic, mystical, and beautiful at night.  Also, staff can offer a variety of activates for guests.  *You need to book them in advance.  You won't get bored during your stay.  On the other hand, if you are a hot spring freak, this is not.  There is no hot spring here.  HOSHINOYA Fuji would be great for couples, solo travelers, family, and small groups.
  TOP5 Romantic Hotels & Ryokans with Mt. Fuji Views
  TOP5 Hotels & Ryokans with Mt.Fuji Views for Families
Is the location easy to access?

No free shuttle service.  It takes 20min by taxi from Kawaguchiko station.  It costs approx. JPY3,000.
What was my room like?

The room tends to be modern, stylish, and functional.  When we stayed in the winter season, we fully relaxed while snuggling under a Kotatsu on the balcony and we enjoyed viewing a dynamic Mt.Fuji.   We were overwhelmed by the beauty of a sky full of stars.  It seemed like I could reach out and grab them with my hand.  That's precious time.
How about toiletries & in-room amenities?
All of the amenities are taken care of including minimum toiletries, skincare products, pajamas, gowns, drip coffee bags, and English tea bags, etc.  A portable speaker is placed in each room, but there is no TV.  The free WiFi reception was good in our room.  Room service is available.  If you want to request for room service, you need to inform in advance.  Then there is no convenience store nearby.  You may want to buy your necessities before coming here.
How about In-house Facilities?
Overall,  facilities tend to be a bit worn-out.  I noticed that there were some stains on the wall and sofa.  It opened in 2015, though.  Then HOSHINOYA Fuji is not a universal design.  There are many steps on-site.  There is no lift.  If you bring people with weak feet, I wouldn't recommend it.  Then the library lounge with a big terrace is very cozy to relax.  Complimentary coffee, herb tea, hot chocolate, hot red wine, hot beer, hot plum wine, snacks, marshmallows, waffles, cookies, and dry fruit, etc., were available in the winter season.  It seems that the menu for food & drinks at the lounge depends on the season.  Also, live guitar performance and a film festival were held at night when we stayed.  We sat back and relaxed here while listening to music and viewing twinkle twinkle little stars.   Unlikely there is no hot spring.
  TOP5 Accessible Hotels & Ryokans with Mt.Fuji Views

How about meals?
The food experience was fantastic.  We tried Game meat cuisine at the restaurant for dinner.  *You need to book a table in advance.  You can choose either New Zealand beef, Japanese beef, pork, or venison for the main dish.  *If you have dinner in the property, you need to check-in by 20:00.  Then we ordered the "morning box" for breakfast in advance.  Staff served a lovely wooden box of Spanish omelet, yogurt, fish roast, bread, and coffee, etc.  We enjoyed the food on the balcony while viewing a stunning Mt.Fuji.   Then, as far as I know, there is no restaurant around here.  You may want to book a room including meals.
My impressions
The staff tends to be patchy.  If you expect 5-star hotel service, this is not.  They are friendly, though.  Overall, the price range would be high if you can't see a beautiful Mt.Fuji view, so don't forget to check a weather forecast before booking a room.  That's the most important.  There are some activities for rainy days, though.  Then the best season to stay here would be except the summer season.  There would be many bugs around the property.  If you are metropolitan, don't stay here during the summer season.  At last, if you want to chill out here in a tranquil atmosphere, you may want to avoid staying during late March, late April to early May, weekend in July, Aug, Oct, Nov, and the end of the year and New Year holiday.  The property would be crowded during the above periods more than you expect.  Have a nice trip!  Welcome to receive any questions about HOSHINOYA Fuji from the below space.  If you check-in after 19:00, you need to inform the staff in advance.  Check Availability and Pricing for HOSHINOYA Fuji on Agoda or Booking.com
Info about HOSHINOYA Fuji
Style

Modern Mountain Villa

Check-in and out times


15:00/12:00

Estimated Price

90,000 JPY for 2 adults per room

Contact E-mail


Fill the form in




Internet Connection

Free wifi in the property

Facility Information

Wheelchairs are not available




Pets are not allowed


The free parking lot is available 


Location

Hoshinoya Fuji's MAP

Access

20min by Taxi from Kawaguchiko Station


Address and TEL


Tel +81

555-76-5050

Official Homepage

Hoshinoya Fuji's HP
*All information above is as of the date that I posted on my blog.