What kind of onsen ryokan is Takinoya?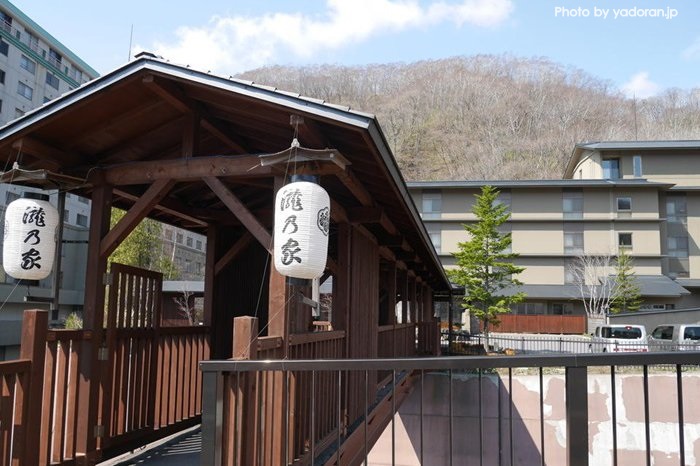 This is a luxury authentic ryokan in Noboribetsu Onsen.  There are 30 rooms only.  We hardly met other guests during our stay.  The ryokan completely emphasizes private experiences for each guest.  If you want to get much of an immersive luxury traditional ryokan experience in Hokkaido, Takinoya would be perfect.  Everything, such as architecture, interior, and decoration is truly sophisticated.  The ambiance is serene, tranquil, and relaxed.  Facilities tend to be the latest.  Takinoya would be great for couples, families, solo travelers, or small groups.
  TOP5 Ryokans with Private Onsen in Hokkaido
  TOP5 Authentic Ryokans in Hokkaido
  TOP5 Hotels & Ryokans for Solo Travelers in Hokkaido

Is the location easy to access?
Yes, it would be easy from New Chitose Airport.  You can take a direct bus from the airport for Noboribetsu Onsen at 12:10, 13:15, or 14:45.  The bus fare is 1,370JPY per adult.  It takes around 60min.  Then get off at Noboribetsu Onsen terminal and just a 5min-walk to the property.  Refer to the DONAN Bus timetable.  Then I wouldn't recommend taking a train when you visit Noboribetsu Onsen.  Because after getting off a train at Noboribetsu Station, you need to take a bus for Noboribetsu Onsen, but buses tend to be crowded and you may have to make a long line.  Alternatively, you can take a TAXI from the station, but it may be hard to find it.   Noboribetsu Station is small, outdated, and run-down.  There wouldn't be taxis waiting at night.  That's why you may want to take a DONAN bus from the airport as much as possible.
Where is the best accommodation for anniversary in Hokkaido?
If you are looking for venues for special occasions, the property would be one of the best.  The staff arranges flowers and cakes to celebrate an anniversary at additional charges if you request in advance.
  TOP5 Romantic Hotels and Ryokans in Hokkaido

Rooms I would recommend?
If you are going to stay here, I would recommend rooms with private outdoor hot springs.  We fully enjoyed our private hot spring until check-out time.  Some rooms have just outdoor baths, they are not hot springs.  The spring quality is one of the best in Japan.  Once you try it, you may become a hot spring freak.  Then if you don't want to sleep on Japanese-mattresses called futon in tatami rooms, you should book a Japanese-western room with twin beds on tatami mats.
How about toiletries & in-room amenities?
All of the amenities are taken care of including enough toiletries, yukatas, bathrobes, a complimentary minibar, a Japanese tea set, etc.  Also, a DVD player, a CD player, and a humidifier were placed in our room.  There is no safety-deposit box in a room.  You need to leave your valuables at the reception.  Also, this is child-friendly.  Staff provides samue outfits, amenities, and meals for small children if you request in advance.  Room service is not available.  The free WiFi reception was good in the property.
  TOP5 Hotels & Ryokans for Families in Hokkaido

How about In-house Facilities?
There are amazing large indoor and outdoor communal hot springs.  All of them are open from 15:00 to 10:00 the following morning.  Only the communal hot springs on 5F are open from 5:00-9:00, 14:00-22:00.  *If you have tattoos, you may not be permitted to use the public bathing area.  You may want to book a room with a private hot spring.  Then Takinoya is a perfect universal design.  There are some rooms for wheelchair users.  Wheelchairs are available for borrowing.  If you bring people with weak feet, you might want to inform the staff in advance as they can arrange a room near the lift.  Also, you may want to book a room with a private hot spring.  Once you enter your room, you wouldn't need to move around.  Then there is a cozy lounge.  Complimentary coffee, English tea, and Japanese tea, etc. are available at the lounge.  Then there are some vending machines for drinks in-house.  There is a convenience store nearby. 
How about meals?
Kaiseki food experience for dinner was just divine.  It may be a bit challenging for the western palate, but it's worth trying it.  The portion tends to be average.  All meals are served in a private room or your room.  After dinner, don't forget to visit the bar.  The ambiance is nice for adults.  *Please note that inform the staff when you book a room with meals if you have any food allergies.  They probably wouldn't be able to prepare alternative food if you request on that day.  You need to check-in by 19:00 if you have dinner on the property.  Then, as far as I know, there is no nice restaurant around there.  You may want to book a room with meals.  I just saw some local ramen shops when I was taking a walk around there.
  TOP5 Gourmet Hotels & Ryokans in Hokkaido

My impressions
All staff is professional but if you cannot find an English speaker, you might want to write on paper what you want to say.  Most of the staff would understand English sentences.  I hope you don't mind.  Overall the price range would be reasonable.   This is absolutely top-notch.  The experience is pure Japan and should definitely be tried.  We would definitely come back here again.  Anyway, the property is very popular all year round.  If you want to chill out in a tranquil atmosphere, you might want to avoid staying during Lunar New Year, late April to early May, weekend in Oct and Nov, and the end of the year and New Year holiday.  Have a nice trip!  Welcome to receive any questions about Takinoya from the below space.  Check availability and pricing for the ryokan on Agoda
Info about Takinoya
Style

Traditional Japanese Ryokan

Check-in and out times


14:00/11:00

Estimated Price

64,800 JPY for 2 adults per room

Contact E-mail


reservation@takinoya.co.jp 

Internet Connection

Free WiFi in the ryokan

Facility Information

Wheelchairs are available




Pets are not allowed




The free parking lot is available




Location

Noboribetsu Onsengo Takinoya's MAP

Access

1 hour by bus from New Chitose Airport


Address and TEL

162 Noboribetsu Onsenchō, Noboribetsu-shi,
Hokkaidō 059-0551  Tel +81 143-84-2222

Official Homepage

Noboribetsu Onsengo Takinoya's HP


*Japanese Only
*All information above is as of the date that I posted on my blog.