What kind of resort hotel is Zaborin?
The property is a luxury mountain hut with private hot springs in the Niseko area.  This is like a museum.  The property must leave a lasting impression.  A one-night stay wouldn't be enough.  If you are looking for modern boutique hotels in magnificent nature, this is perfect.  There are 15 rooms only.  Absolutely the property completely emphasizes private experiences for each guest.  Perhaps if you are a hot spring freak, the property would be amazing.  Each room has wonderful indoor and outdoor private hot springs.  The spring quality is perfect, thick, moist, and creamy.  The water temperature tends to be lukewarm.  You can fully enjoy your private baths while viewing magnificent natural landscapes whenever you like.  It couldn't be better.  On the other hand, if you are looking for an authentic onsen ryokan adventure, this is not.  The ambiance is serene, tranquil, and peaceful.  Zaborin would be great for couples, solo travelers, family, or groups.  *A minimum age requirement of 13 applies.
  TOP5 Hotels with Private Onsen in Hokkaido

Is the location easy to access?
No, traveling from New Chitose Airport would be tricky.  Zaborin is approximately two hours' drive from New Chitose Airport.  It takes 150min by train.  Free shuttle service is available from Kutchan Station, Niseko Moiwa Ski Resort, and Niseko Hanazono Resort, etc.  You need to book it in advance.
Where is the best accommodation for anniversary in Hokkaido?
If you are looking for venues for special occasions in Hokkaido, the property would be perfect.  The staff arranges flowers and cakes to celebrate an anniversary at additional charges if you request in advance.
  TOP5 Romantic Hotels and Ryokans in Hokkaido

Rooms I would recommend?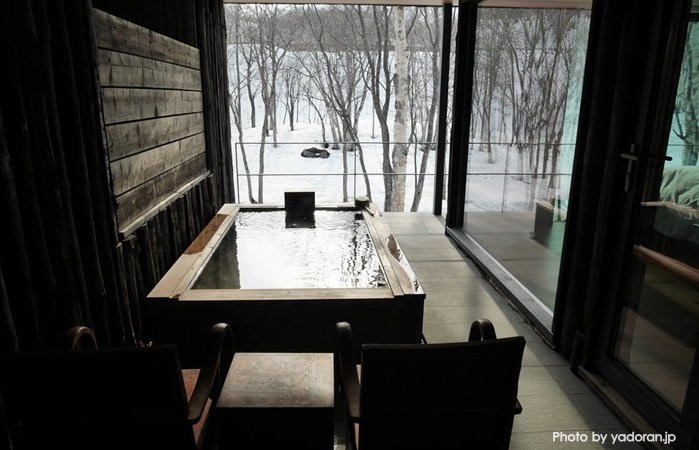 If you are going to stay here, you may want to book a room facing Mt.Yoteizan.  The room with spacious windows is modern, user-friendly, and functional.  Facilities tend to be the latest.  Furniture, interior, and decorations are truly sophisticated.
How about toiletries & in-room amenities?
All of the amenities are taken care of including enough toiletries, yukatas, pajamas, samue outfits, a Japanese tea set, a Nespresso machine with 6 capsules, and a complimentary mini-bar, etc.  Also, a humidifier, an Apple TV, and a DVD player were placed in our room.  There are some kinds of pillows which you can choose.  The free WiFi reception was good in the property.
How about In-house Facilities?
There is no communal hot spring.  Then there are some cozy public spaces, such as a library, a lounge, and a bar, etc.  You can chill out while viewing a beautiful white birch forest.  That's precious time.  We planned to go skiing when we stayed in 2017 but once we entered our room, absolutely we didn't feel like going out anymore and completely enjoyed being lazy.  It was good without any comparison.  Then Zaborin is not a perfect universal design but there are few steps.  If you bring people with weak feet, you may want to inform the staff in advance as they can arrange a room near the entrance.  Then, there is no convenience store within walking distance.  You may want to buy your necessities before coming here.
  TOP5 Accessible Hotels in Hokkaido

How about meals?
Kaiseki food experience for dinner was just divine.  Each dish is like a work of art.  The food tends to be sophisticated.  All delicious dishes make the most of the original taste of local fresh ingredients.  If you are a gourmet, you must be excited.  Also, they have a nice wine list to complement the meal.  All meals are served in a private room.  The portion tends to be average.  Also, you can choose either Western or Japanese cuisine for breakfast if you request in advance.  Breakfast starts from 7:30 to 10:00.  Dinner starts at 18:00.  *Inform staff by 3 days before if you have any food allergies or dietary needs.   Then, as far as I know, there is no restaurant around the property.  You may want to book a room with meals.  After dinner, don't forget to visit the bar as the ambiance is truly relaxed.  You can enjoy another drink while seeing a mysterious view of the forest illuminated at night.  The bar is open from 17:00-22:00.
  TOP5 Gourmet Hotels & Ryokans in Hokkaido

My impressions
All staff tends to be sophisticated.  If you expect 5-star hotel service, the property would be nice.  You can experience a signature Japanese hospitality.  Overall, the price range would be reasonable.  I consider this is one of the amazing mountain huts of the world.  Then if you are metropolitan, you may want to avoid staying during the summer season as there would be many bugs around private outdoor hot springs.  The property is surrounded by beautiful nature.  It cannot be helped.   Have a nice trip!  Welcome to receive any questions about Zaborin from the below space.  If you check-in after 19:00, you need to inform the staff in advance.  Check availability and pricing for the property on Booking.com or Agoda
Info about Zaborin
Style

luxury mountain hut

Guest Rating

14:00/11:00

Check-in and out times


109,200 JPY for 2 adults per room

Contact E-mail

 info@zaborin.com  or 

fill the form in

Internet Connection

Free wifi in the hotel

Facility Information

 Wheelchairs are available
Pets are not allowed
The free parking lot is available


Location

Zaborin's MAP

Access

2 hours' drive from

New Chitose Airport


Free shuttle service from

Kutchan Station




Address and TEL

76-4, Hanazono, Kutchan-chō, Abuta-gun,
Hokkaidō 044-0084  Tel +81 136-23-0003

Official Homepage

Zaborin's HP
*All information above is as of the date that I posted on my blog.