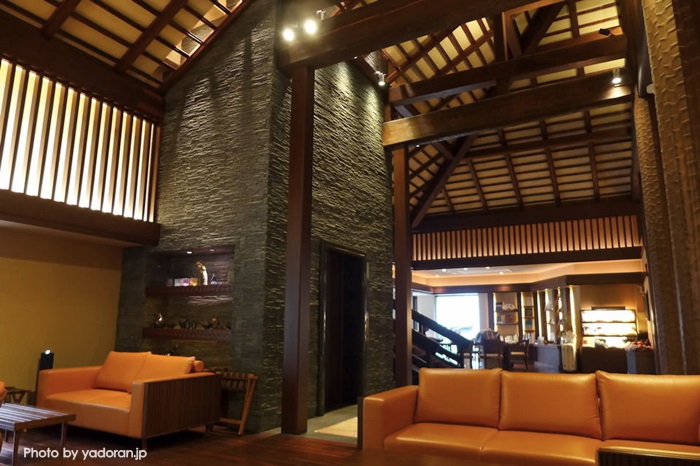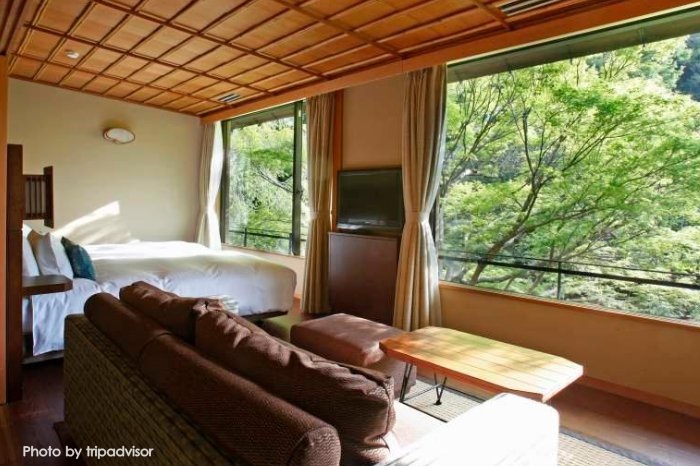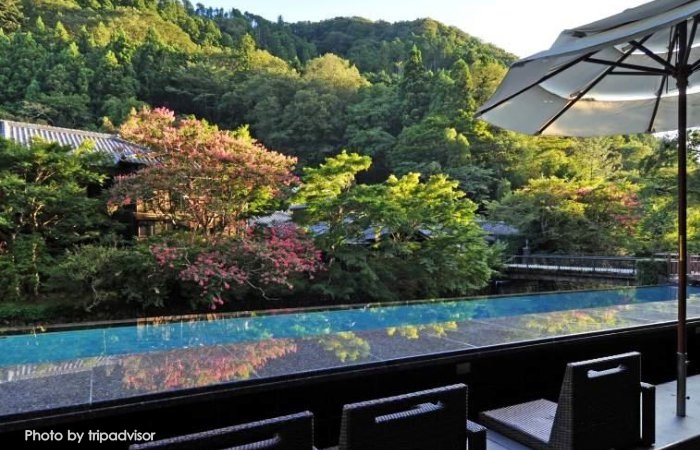 This is absolutely a perfect venue for a weekend trip.  If you are looking for sophisticated modern ryokans in Izu, you should stay at Tofuya Resorts and Spa Izu.  Once you enter the property, you wouldn't need to go out for sightseeing.  The property is very large.  There is a bakery & café with a foot spa, a traditional wooden building called Taishokan-Hosen, a hiking trail, and an observation deck to see Mt.Fuji on-site.  You can relax while taking a walk and viewing peaceful landscapes in good weather.  On the other hand, if you are looking for authentic ryokans, this is not.  The ambiance is lively, cozy, and tranquil.  The property would be great for couples, families, small groups, or solo travelers.  Also, this wouldn't be child-friendly.   If you bring small children, you need to inform the staff before booking a room.  Then if you are going to stay here, I would highly recommend booking a room with a private hot spring.  You can chill out at the private bath with a beer in hand.  The room is spacious, modern, and functional.  Facilities tend to be the latest.  On the other hand, I wouldn't recommend staying in a single room.  It seems that the single room is located near the communal hot springs.  Your ear may often catch some noise.  Then all of the amenities are taken care of including enough toiletries, yukatas, samue outfits, a coffee machine with capsules, bottled water, and a Japanese tea set.  There are some colorful yukatas in the lobby which you can choose.  Room service is not available.  Complimentary drinks, such as vegetable juice, plum juice, and oolong tea are available at the lobby.  On top of that, complimentary beer, wine, soft drinks, coffee, and tea, etc., are available at the traditional building called Taishokan-Hosen between 11:30 and 17:00.  Then free WiFi reception was patchy in the property.  I noticed that a PC was placed in the lobby to use someone.  Then Tofuya Resort and Spa-Izu is not universal design.  There are some steps.  I wouldn't recommend it if you bring people with weak feet.  Then there are wonderful indoor and outdoor communal hot springs in-house.  They are open from 5:00 to 24:00.  Also, there are 3 private family hot springs that you can use for free for 50min.  You need to book in advance at the reception if you want to use them.  All of them are open from 6:00 to 23:00.  *Please note that if you have tattoos and want to use the communal hot springs, use reserved private family ones instead, or book a room with a private one.  Then kaiseki cuisine for dinner was just divine.  The food tends to be sophisticated.  The portion tends to be average.  Also, we requested some rice balls for a night snack.  They have a nice Japanese sake list to complement the meal.  All meals are served in a dining area.  Dinner starts from 17:30 or 19:00.  *Please note that inform the staff when you book a room with meals if you have any food allergies.  They probably wouldn't be able to prepare alternative food if you request on that day.  Then, as far as I know, there is no nice restaurant around the property.  You may want to book a room including meals unless you have a car.  Then the staff tends to be patchy.  If you expect a 5-star hotel service, this is not.  The hardware is clearly outstanding and is enhanced by the peaceful views, but the software is not of the same class.  Also if you cannot find English speakers, you might want to write on paper what you want to say.  Most of the young staff would understand English sentences.  I hope you don't mind.  Then the location is 20min by TAXI from Shuzenji Station.  It costs around 3,500JPY.  Alternatively, if you take a TOKAI BUS from the station, get off at Yoshinaonsenguchi Bus stop.  It takes 25min by bus.  Then call 0558-85-1000 when you arrive at the bus stop.  A free shuttle service is available.  If this is your first visit Shuzenji Onsen, you may be worried where you should get off, so you may want to show the below Japanese sentence to a bus driver when you get on a bus.
吉奈温泉口のバス停に着いたら、教えてください。
Please let me know when you reach "Yoshinaonsenguchi Bus Stop"
At last, don't forget to check a weather forecast before booking a room.  If it's fine, you would be able to see Mt.Fuji from the observation deck on-site.  Have a nice trip!  Welcome to receive any questions about Tofuya Resort and Spa-Izu from the below space.  *All information is as of the date that I posted on my blog.  **Check-in and out times 15:00/11:00   If you check-in after 17:00, you need to inform staff in advance.  ***Due to the coronavirus, the property is temporarily closed until the 6th of May, 2020.  The temporary closure has been extended until the 20th of May.  Check Availability and Pricing for the property on Agoda or Booking.com
Info about Tofuya Resort and Spa-Izu
Style

Modern Ryokan

Guest Rating

Superb 9.0

Estimated Price

39,000 JPY for 2 adults per room

Contact

 tofuya@tfyjapan.com

Internet Connection

Free wifi around the public area

Facility Information

Wheelchairs are not available




Pets are not allowed


The free parking lot is available


Location

The Tofuya Resort and Spa-Izu's MAP

Access

20min by TAXI from Shuzenji Station

Address and TEL

98 Yoshina, Izu-shi, Shizuoka 410-3208
Tel +81 558-85-1000

Official Homepage

The Tofuya Resort and Spa-Izu
*Japanese only
You may be interested in other places near Izu, Shizuoka.