What kind of ryokan is Yuzuya Ryokan Kanazawa Ryokusone?
This is like a hideaway for adults.  If you are looking for an authentic luxury ryokan adventure in Kanazawa, you should stay here.  This is a spectacular ryokan to stay with attention to every detail.  The architect who designed this thought of every element to bring a beautiful harmony to each room.  I'm sure that the owner has a lot of experience to stay at top-notch ryokans and hotels.  There are only 7 rooms.  We didn't see other guests during our stay even though the property was fully booked.  The ryokan completely emphasizes private experiences for each guest.  This would be amazing for couples or solo travelers, but not for families with small children.  *A minimum age requirement of 13 applies.
  TOP5 Luxury Ryokans near Kanazawa Station
  TOP5 Luxury Ryokans for Solo Travelers in Kanazawa

Is the location easy to access?
The location would be inconvenient.  It takes around 20min from Kanazawa Station by car.  It costs around 2,500JPY.  It takes 10min from the property to Kenroku-en by car.  You may need to take taxis when you move around unless you have a car.  On top of that, it wouldn't be easy to find the entrance of the property.  I think that most of the Taxi drivers wouldn't know it.  You may want to show a map where it is located.  If this is your first visit to Kanazawa, you may feel a bit troublesome, but the property must leave a lasting impression. 
Where is the best accommodation for anniversary?
If you are looking for venues for special occasions, the property would be one of the best in Kanazawa.  The staff arranges flowers and cakes to celebrate an anniversary at additional charges if you request in advance.
  TOP5 Luxury Romantic Ryokans in Kanazawa

Rooms I would recommend?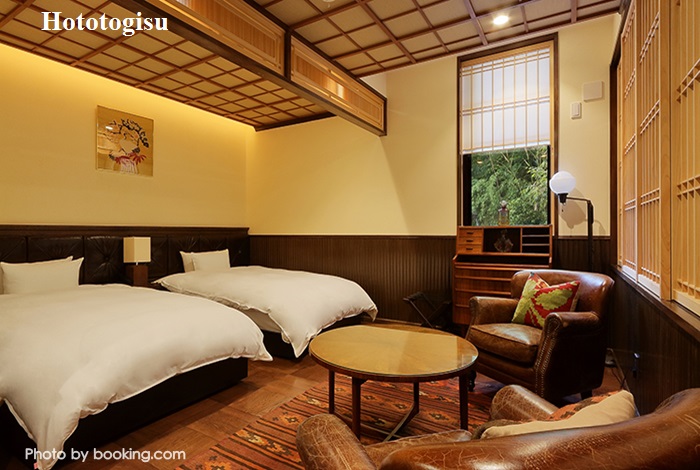 If you are going to stay here, I would recommend rooms called Hototogisu, Yamaboshi, Kuroyuri, or Wachiku.  *Refer to the above photos.  These rooms tend to be sophisticated.  Alternatively, if you stay for a few days, you may want to change rooms.  Each room has a different ambiance.  Then if you don't want to sleep on Japanese-style mattresses called futon in tatami rooms, you might want to book a room with western beds.  There are 4 rooms with twin beds.  Then there is no room with a private hot spring.
How about In-house Facilities?
Facilities tend to be the latest as it opened in June 2015, but unluckily there is no hot spring, no communal bath, or no saunas, etc.  If you are a hot spring freak, you should find others.  Also, there is no lounge, no library, or no bar.  Then the property is not a universal design.  There are some steps in-house.  If you bring people with weak feet, I wouldn't recommend the property.  Then there is no vending machine for drinks and no convenience store nearby.  You may want to buy your necessities before coming here.
  TOP5 Accessible Ryokans in Kanazawa

How about toiletries & in-room amenities?
All of the amenities are taken care of including enough toiletries, yukatas, bathrobes, and a Japanese tea set.   Free Wi-Fi reception was good on the property.  Room service is not available.

How about meals?
This is one of the popular auberge ryokans in Kanazawa.  If you are a gourmet, you should try it.  It's truly worth it.  All ingredients were very high end including fish, beef, and crab, etc.  The food presentation was exceptional and the taste was exquisite.  We were so impressed with each Kaga kaiseki dish.  Also, they have a nice Japanese sake list to complement the meal.  All meals are served in a restaurant.  *Please note that inform the staff when you book a room with meals if you have any food allergies.  They probably wouldn't be able to prepare alternative food if you request it on that day.  Then, as far as I know, there is no restaurant around the property.  If you go out for meals, you need to get a taxi.
  TOP5 Luxury Gourmet Ryokans in Kanazawa

My impressions
Overall, a one-night stay wouldn't be enough.  If you want to get much of an immersive "luxury Japanese culture" experience in Kanazawa, the property would be perfect.  All staff is very warm, helpful, and attentive.  You can experience signature Japanese hospitality.  Have a nice trip!  Welcome to receive any questions about Yuzuya Ryokan Kanazawa Ryokusone from the below space.  *If you check-in after 18:00, you need to inform the staff in advance.  Check Availability and Pricing for the ryokan on Agoda or Booking.com
Info about Yuzuya Ryokan Kanazawa Ryokusone
*All information above is as of the date that I posted on my blog.