What kind of onsen hotel is Nishimuraya Hotel Shogetsutei?
This is a luxury onsen ryokan.  If this is your first time staying at ryokans, you should stay here.  Facilities tend to be the latest.  You wouldn't feel any stress during your stay.  On the other hand, if you are looking for an authentic ryokan adventure, this is not.  I would rather recommend Nishimuraya Honkan or Mikiya.  Nishimuraya Hotel Shogetsutei would be great for families with children, couples, or groups, but not solo travelers.  The ambiance is cozy, serene, and tranquil.  We were overwhelmed by the beauty of the garden from the lobby.
Is the location easy to access?
Yes, a Free shuttle service is available from Kinosaki Onsen Station.  You need to book it in advance.  It takes 25min on foot from the station.
Rooms I would recommend?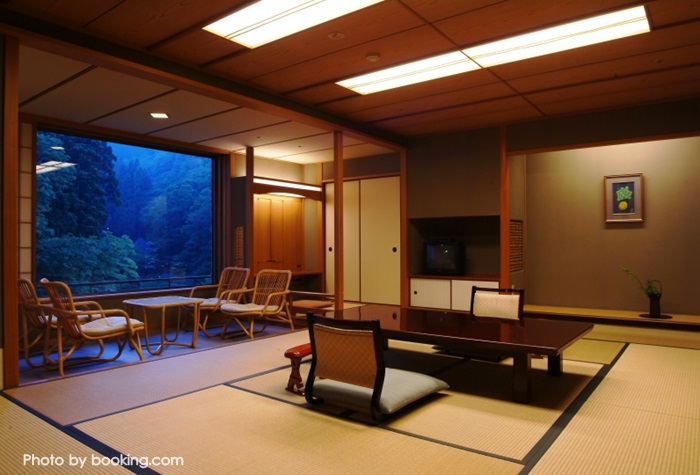 If you are going to stay here, I would recommend rooms with views of the garden.  You can relax while seeing peaceful views.  Then if you don't want to sleep on Japanese-style mattresses in tatami rooms, you may want to book western-style rooms.
How about toiletries & in-room amenities?
All of the amenities are taken care of including enough toiletries, yukatas, tea bags, and a Japanese tea set, etc.  Also complimentary coffee, tea, beer, wine, and sweets, etc., were available at the lobby lounge from 7:30 to 23:00.  Room service is not available.  There is no convenience store within 5min walking distance.  You might want to buy your necessities before coming here.  Nishimuraya Hotel Shogetsutei is child-friendly.  Staff can offer baby futons, chairs, soaps, and lotion, etc., which you might need.  Then free WiFi reception was good in the property when we stayed in 2018.  I noticed that two computers were placed in the lobby to use someone.
How about In-house Facilities?
There are wonderful large communal hot springs, mist saunas, and Jacuzzi.  The communal baths are open from 5:30-10:00, 12:00-24:30.  Also, there are three private family hot springs in-house.  You need to book in advance if you want to use them.  It costs 8,640JPY for 70min.  Complimentary sparkling wine, bottled water, and toiletries, etc., are available at the private family baths.  *Please note that if you have tattoos and want to use the communal baths, use reserved private family ones instead, or book a room with a private one.  Then the garden pool is available for free from 9:00-17:00 between mid-July and late Aug only.  Also, bicycles are available for free for 2 hours on a first-come, first-served basis.  Then this is a perfect universal design.  There are some rooms for wheelchair users.  Wheelchairs are available for borrowing.  If you bring people with weak feet, you might want to inform the staff in advance as they can arrange a room near the lift.  Then this is pet-friendly.  If you bring your pets, you need to inform the staff in advance as there are some regulations.
How about meals?
The food experience for dinner was simply wonderful.  Dinner starts from 17:30, 18:00, 18:30, or 19:00.  You can choose Japanese Kaiseki served in your room, or western cuisine at the restaurant called "Ricca" on-site.  *The restaurant has a minimum age requirement of 10 applies.  Reservation is required.  *Please note that inform the staff when you book a room with meals if you have any food allergies.  They probably wouldn't be able to prepare alternative food if you request on that day.  Then buffet-style Japanese cuisine for breakfast is served in a big dining room.  If you want to have breakfast in your room, you may want to request it in advance.  The dining area tends to be so crowded during the busy season.  Breakfast starts from 7:30-9:30.
My impressions
The staff tends to be proactive, helpful, and attentive, but not sophisticated.  If you expect 5-star hotel service, this wouldn't be.  At last, I noticed that there were many local return guests and tour groups all year round.  If you want to relax in a tranquil atmosphere, you might want to avoid staying during Lunar New Year, late April to early May, weekends of Oct & Nov, and the end of the year and New Year holiday.  Have a nice trip!  Welcome to receive any questions about the property from the below space. *You need to inform the staff of your expected arrival time in advance.  Check Availability and Pricing for the ryokan on Booking.com or Agoda
Info about Nishimuraya Hotel Shogetsutei
*All information above is as of the date that I posted on my blog.