What kind of onsen ryokan is Kurokawa Onsen Gosyo Gekkoujyu?
The property must leave a lasting impression.  This is like a Samurai's residence.  Everything, such as architecture, furniture, interior, and decoration, etc., is sophisticated.  It is truly exceptional.  From the first moment arriving at the last-minute leaving, we were pampered and treated like royalty.  If you want to chill out at luxury modern ryokans in Kurokawa Onsen, I would recommend it.  Perhaps, if you are looking for rooms with wonderful large private hot springs, you should stay here.  Each room has a private onsen.  On the other hand, if you want to hang out around the center of Kurokawa Onsen in Yukata whenever you like, this is not.  The location is a little away from the center of the onsen town.  It takes 5min by car.  The onsen ryokan would be great for couples, solo travelers, family, or small groups.  The ambiance is tranquil, serene, and relaxed.  We didn't see other guests during our stay.  There are only 8 rooms.  Absolutely the property completely emphasizes private experiences for each guest.
  TOP5 Ryokans with Private Onsen in Kurokawa Onsen

Is the location easy to access?
Free shuttle service is available from Kurokawa Onsen Bus Stop.  You need to book it in advance.
Where is the best accommodation for anniversary?
If you are looking for unique venues for special occasions in Kurokawa Onsen, the property would be one of the best.  The staff arranges cakes to celebrate an anniversary at an additional charge if you request in advance.
  TOP5 Romantic Ryokans in Kurokawa Onsen

Rooms I would recommend?
If you are going to stay here, I would recommend staying in rooms called "Izayoi", "Kazemachi" or "Kagetsu".  You can see beautiful mountains while soaking in the baths.  We fully enjoyed our large private hot spring.  On top of that, separately the foot onsen was installed under the Irori table in our room!  Facilities including home appliances tend to be the latest.
How about toiletries & in-room amenities?
All of the amenities are taken care of including enough toiletries, pajamas, yukatas, bathrobes, a coffee mill with coffee beans, a green tea set, and a complimentary mini-bar including beer, etc.  There are john masters organics amenities in the bathroom.  Room service is available.  There is no convenience store around here.  You may want to buy your necessities before coming here.  Then this is child-friendly.  Staff provides amenities, samue outfits, and meals for small children if you request.  Free WiFi reception was sometimes slow in my experience.
How about In-house Facilities?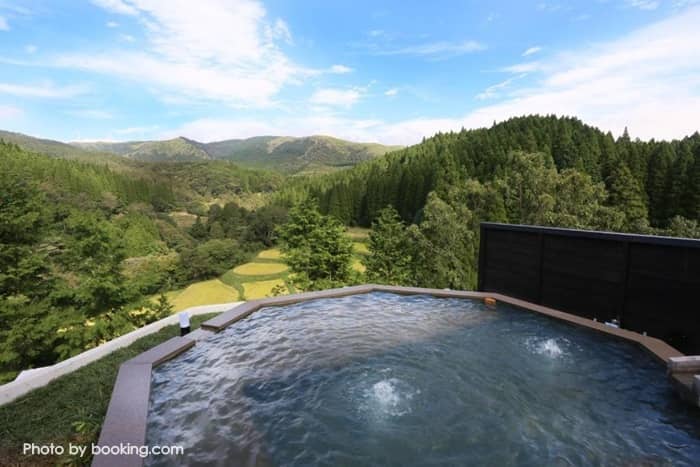 Gosyo Gekkoujyu has a universal design room called "Tensin" for wheelchair users.  Wheelchairs are available for borrowing.  If you bring people with weak feet, you may want to inform the staff in advance as they can arrange a room near the reception.  Once you enter your room, you wouldn't need to move around as each room has a wonderful private hot spring.  Then there is an amazing private family hot spring called "Tenku no Rotenburo" which you can use for free.  Don't forget to try it.  You can fully enjoy soaking in the bath while viewing a starry sky and a beautiful moon in good weather.  That's precious time.  You need to book it in advance when you check-in.  There is no communal hot spring in-house.
  TOP5 Accessible Ryokans in Kurokawa Onsen

How about meals?
The kaiseki food experience for dinner and breakfast was just divine.  The food tends to be sophisticated.  Are you a gourmet?  If so, you should stay here.  We were so impressed by each dish with much detail and care.  All ingredients were high-end including abalone, Japanese spiny lobster, and beef, etc.  The portion tends to be big.  You won't be able to resist even you are full.  Don't forget to bring your empty stomach.  You can get free horse meat and beef refills which are surprisingly tender.  Then some rice balls for a night snack were offered after dinner.  On top of that, a complimentary lunch meal was offered.  That's a great service.  You can choose either a beef burger or buckwheat noodle for lunch.  Then you can choose either your room or the dining room when you have meals.  If the weather is fine, I would recommend having breakfast in the dining area.  You can see a wonderful panoramic view while enjoying food.  *Please note that inform the staff when you book a room with meals if you have any food allergies.  They may not be able to prepare alternative food if you request on that day.  Then, as far as I know, there is no restaurant around the property.  The location is out of the way.  You may want to book a room including meals.
  TOP5 Gourmet Ryokans in Kurokawa Onsen

My impressions
All staff is exquisite, sophisticated, and considerate.  It couldn't be better.  If you expect 5-star hotel service, you should stay here.  Overall the price range would be reasonable.  The performance of the service was above expectations.  We definitely return here again.  At last, don't forget to check a weather forecast before booking a room.  That's the most important.  Have a nice trip!  Welcome to receive any questions about the onsen ryokan from the below space.  If you check-in after 18:00, you need to inform the staff in advance.    Check Availability and Pricing for the ryokan on Agoda or Booking.com
Info about Kurokawa Onsen Gosyo Gekkoujyu
Style

Modern Japanese-style Ryokan

Check-in and out times

15:00/11:00


Estimated Price

100,000JPY for 2 adults per room

Contact E-mail


front@gekkoujyu.com

Internet Connection

WiFi reception was very slow in my experience


Facility Information

Wheelchairs are available




Pets are not allowed




The free parking lot is available




Location

Kurokawa Onsen Gosyo Gekkoujyu's MAP

Access

Free Pick-up service from

Kurokawa Onsen bus stop


*Need to book in advance

Address and TEL

6777-2 Oaza Manganji Minamioguni-machi
Aso-gun Kumamoto 869-2402  Tel +81 967-44-1717

Official Homepage

Kurokawa Onsen Gosyo Gekkoujyu's HP
*All information above is as of the date that I posted on my blog.