What kind of onsen ryokan is Ryokan Miyama Sansou?
This is like a small mountain village.  If you are looking for luxury onsen ryokans with private hot springs, I would recommend it.  Each room has a wonderful private hot spring.  Perhaps if this is your first time staying at ryokans, this would be great.  Facilities tend to be the latest.  You wouldn't feel any stress during your stay.  On the other hand, if you want to hang out around Kurokawa onsen town in Yukata whenever you like, this wouldn't be.  The property is located a five-minute drive away from the center of Kurokawa Onsen.  The property would be great for family, couples, small groups, or solo travelers.  *A minimum age requirement of 13 applies.  The ambiance is cozy, tranquil, and friendly
  TOP5 Ryokans with Private Onsen in Kurokawa Onsen

Is the location easy to access?
Yes, free shuttle service from Kurokawa Onsen Bus Stop is available between 11:00 and 17:30.  You need to book it in advance.  If you drive a car, be careful.  It's often foggy, especially the spring and the fall season.  Also, it would be very hard to drive on snowy days in the winter season.  There are many narrow mountain roads.  You may want to use public transportation when you visit Kurokawa Onsen.
Rooms I would recommend?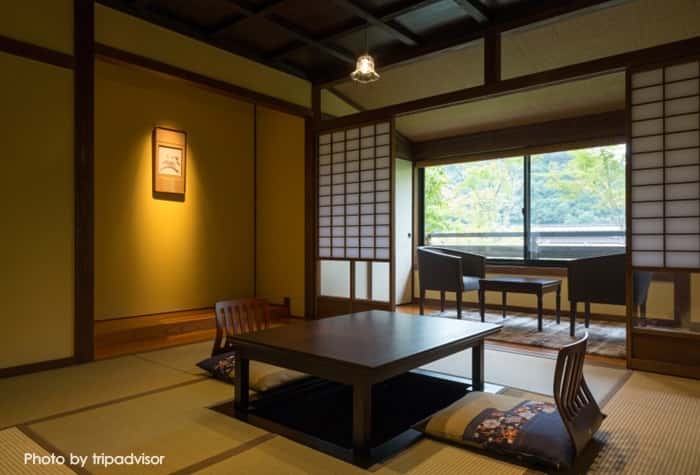 If you are going to stay here, I would recommend a special room called "C type".  It's truly worth staying in the room.  The private outdoor hot spring is along the river.  You can enjoy white noise from the river and starry sky while soaking in the bath.  That's an extraordinary experience.
How about toiletries & in-room amenities?
All of the amenities are taken care of including minimum toiletries, pajamas, samue outfits, a coffee machine with capsules, a green tea set, and a complimentary mini-bar including beer.  Also, a humidifier and a DVD player were placed in our room.   Free WiFi reception was sometimes very slow at night.  There is a vending machine for drinks.  Room service is available until 22:00.
How about In-house Facilities?
The communal indoor and outdoor hot springs were amazing.  The spring quality was soft, smooth, and moist.  The water temperature was just nice.  There were some outside guests who take a day trip to the communal hot springs between 10:00 and 15:00 so the communal ones tend to be busy during the time slot.  If you want to chill out here, you might want to use it after dinner or before breakfast in the early morning.  The communal ones are basically open for 24 hours.  Then you can use communal hot springs in the sister inns, Yamamizuki and Yama no Yado Shinmeikan.  Staff can bring you to each of them.  *Please note that if you have tattoos, you may not be permitted to use all of the communal ones.  Then Ryokan Miyama Sansou is not a perfect universal design but there are few steps in-house.  Also, wheelchairs are available for borrowing.  All rooms have western twin beds and private hot springs.  Once you enter your room, you wouldn't need to move around.  When you move to the dining room, the front desk, and the communal baths, the staff brings you by resort cart.  If you bring people with weak feet, you may want to inform the staff in advance as they can arrange a villa near the entrance.  Then there is no convenience store around here.  You might want to buy your necessities before coming here.
  TOP5 Accessible Ryokans in Kurokawa Onsen

How about meals?
The local cuisine for dinner and breakfast was wonderful.  It may be a bit challenging for the western palate.  You can choose either Western or Japanese cuisine for breakfast.  All meals are served in a dining area.  Dinner starts from 18:00 to 20:00.  Breakfast starts from 7:30 to 9:00.  *Please note that inform the staff when you book a room with meals if you have any food allergies.  They probably wouldn't be able to prepare alternative food if you request on that day.  Then, as far as I know, there is no restaurant around the property.  Local papa-mama shops are closing early.  You may want to book a room including meals.
  TOP5 Gourmet Ryokans in Kurokawa Onsen

My impressions
The most important I would like to highlight is that all staff was warm, proactive, and friendly.  If you want to experience signature Japanese hospitality with a personal touch, you should stay here.  Overall, the price range would be reasonable.  The experience was unique and should definitely be tried.  Have a nice trip!  Welcome to receive any questions about Ryokan Miyama Sansou from the below space.  If you check-in after 18:00, you need to inform the staff in advance.  Check Availability and Pricing for the ryokan on  Booking.com or  Agoda 
Info about Ryokan Miyama Sansou
Style

Modern Japanese Villa

Check-in and out times


15:00/11:00

Estimated Price

43,000 JPY for 2 adults per room

Contact E-mail


 info@miyama-sansou.com

Internet Connection

Free WiFi in the ryokan

Facility Information

Wheelchairs are available




Pets are not allowed




The free parking lot is available 

Location

Ryokan Miyama Sansou's MAP

Access

Free pick-up service
from Kurokawa Onsen Bus Stop

Address and TEL

6393 Manganji, Aso-gun,
Minamioguni-machi,
Kumamoto 869-2402
Tel +81 967-44-1101

Official Homepage

Ryokan Miyama Sansou's HP
*All information above is as of the date that I posted on my blog.