What kind of onsen ryokan is Kurokawa Onsen Oyado Noshiyu?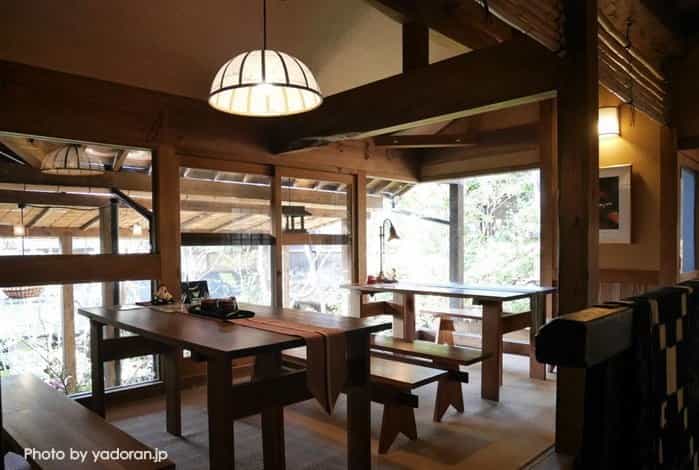 This is my cup of tea.  If this is your first time staying in Kurokawa Onsen, I would recommend it.  No doubt this is one of the best in Japan.  There are many return guests all year round.  Perhaps if you want to get much of an immersive "traditional hot springs" experience in the countryside as you expect, you should stay here.  Oyado Noshiyu would be great for couples, family, solo travelers, or groups.  *If you bring small children, you can stay at the deluxe rooms called "Azami" or "Shion" only.  Children cannot be accommodated in other rooms.  The ambiance is serene, tranquil, and cozy.  It's like you're in another world.  This is like a maze.  The stately interior creates a mature impression.
  TOP5 Ryokans with Private Onsen in Kurokawa Onsen
  TOP5 Ryokans for Solo Travelers in Kurokawa Onsen

Is the location easy to access?
A free shuttle service is available from Kurokawa Onsen Bus stop.  You need to book it in advance.  The location is perfect, just a 5min-walk from the Bus Stop.  You can fully enjoy going on a hot spring hopping in Yukata whenever you like.
Where is the best accommodation for anniversary?
If you are looking for unique venues for special occasions in Kurokawa Onsen, the property would be one of the best. The staff arranges cakes to celebrate an anniversary at an additional charge if you request in advance.
  TOP5 Romantic Ryokans in Kurokawa Onsen

Rooms I would recommend?
Each room is very unique.  If you are going to stay here, I would recommend rooms with private hot springs.  Then if you don't want to sleep on Japanese mattresses in tatami rooms,  you should stay in western Japanese rooms with twin beds.
How about toiletries & in-room amenities?
All of the amenities are taken care of including minimum toiletries, yukatas, Japanese sweets, and a green tea set, etc.  *Please note that Kurokawa onsen has some regulations about shampoo, soap, and detergent, etc., to protect the environment.  Those qualities tend to be inferior.  You may want to bring yours if you are particular.  Then free WiFi reception was available at the lounge and the front area only.  Also, I noticed that some computers were placed in the lounge to use someone.  Room service is not available.
How about In-house Facilities?
There are wonderful large communal hot springs.  Also, there are four private family ones for free in-house which guests can use whenever they are not occupied.  You should try all of them.  The water temperature tends to be a bit high.  The spring quality is awesome.  The indoor communal ones are open from 15:00-10:00 the following morning.  The outdoor communal ones are open from 7:00-11:00, 15:00-22:30.  The private family ones are open from 7:00-11:00, 15:00-22:30.  *Please note that if you have tattoos and want to use the communal hot springs, use the private family baths instead, or book a room with a private one.  Then Oyado Noshiyu is not a universal design and there are many steps in-house.  If you bring people with weak feet, I wouldn't recommend it.  Then there is a nice bar, café, and lounge on-site.  Don't forget to visit all of them.  The ambiance was cozy for adults.  You can chillax to the max at the places while listening to jazz music.  Complimentary coffee and English tea are available at the café and the lounge.
  TOP5 Accessible Ryokans in Kurokawa Onsen

How about meals?
The kaiseki food for dinner was simply wonderful.  The food would be equivalent to Michelin 1 or 2 stars.  If you are a gourmet, you should stay here.  All meals are served in a dining area.  If you prefer counter seats, you might want to request when you check-in.  Also if you stay at rooms called AZAMI or SHION, all meals are served in private rooms.  After dinner, some rice balls are served for a night snack.  Dinner starts at 18:00.  If you have dinner at the property, you need to check-in by 19:00.  *Please note that inform the staff when you book a room with meals if you have any food allergies.  They probably wouldn't be able to prepare alternative food if you request on that day.  Then there are few restaurants for dinner around the property.  Local papa-mama shops are closing early.  You may want to book a room including meals.
  TOP5 Gourmet Ryokans in Kurokawa Onsen

My impressions
All staff is friendly, helpful, and proactive.  I'm sure you can experience signature Japanese hospitality with a personal touch.  Only my issue is that it wouldn't be easy to book a room, especially weekends, but it's truly worth staying here.  Have a nice trip!  Welcome to receive any questions about Kurokawa Onsen Oyado Noshiyu from the below space.  The payment is CASH only.  You need to inform the staff of your expected arrival time in advance.  Check Availability and Pricing for the property on Booking.com or Agoda
Info about Oyado Noshiyu
Style

Modern Traditional Japanese house

Check-in and out times


15:00/11:00

Estimated Price

38,000 JPY for 2 adults per room

Contact

Call at +81  967-44-0308 from overseas
Call at  0967-44-0308 domestic Japan
9:00-19:00 Open


Internet Connection

Free WiFi around the lobby only

Facility Information

 Wheelchairs are not available
Pets are not allowed
The free parking lot is available


Location

Oyado Noshiyu's MAP

Access

Free shuttle service from

Kurokawa Onsen Bus Sto

p


Need to book it in advance


Address and TEL

6591-1 Manganji, Minamioguni-machi, Aso-gun
Kumamoto 869-2402  Tel +81 967-44-0308

Official Homepage

Oyado Noshiyu's HP

 

*Japanese only
*All information above is as of the date that I posted on my blog.