What kind of resort hotel is Fufu Kawaguchiko?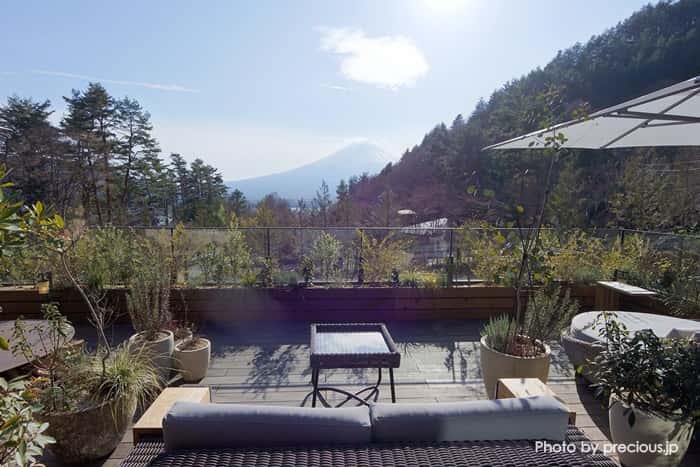 This is like a luxury holiday home with private onsens.  If you love rustic modern-style properties, I would recommend it.  Perhaps, if you are looking for stylish rooms with private hot springs, you should stay here.  Each room has a wonderful private hot spring.  This is one of the best boutique luxury resorts in Japan.  It's like you're in another world.  Everything, such as architecture, furniture, decorations, and interior, etc., is impeccable.  Then the property completely emphasizes private experiences for each guest.  There are 35 rooms only.  If relaxation is your main purpose, this would be perfect.  The ambiance is serene, tranquil, and sophisticated.  The resort would be great for couples, families, small groups, or solo travelers.  We were escorted to a beautiful room with a breathtaking view of Mt.Fuji.
  TOP5 Hotels & Ryokans with Private Onsen near Mt.Fuji
  TOP5 Resort Hotels with Mt.Fuji Views
  TOP5 Romantic Hotels & Ryokans with Mt.Fuji Views
  TOP5 Hotels & Ryokans for Solo Travelers

Is the location easy to access?
The location is 15min by taxi from Kawaguchiko Station.  It costs around JPY2,000.  A free shuttle bus is not available.
Rooms I would recommend?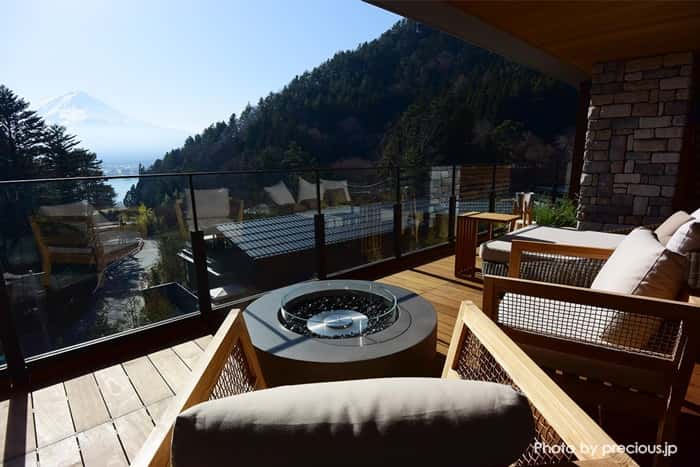 If you are going to stay here, I would recommend rooms on 3F or 4F.  You can view a dynamic Mt.Fuji with a beer in hand while chilling out at the rooms.  That's precious time.  Then the balcony has a lovely small herb garden.  The subtle lavender flavor made us so relaxed.  The room is truly functional, user-friendly, and spacious.  Facilities tend to be the latest.
How about toiletries & in-room amenities?
All of the amenities are taken care of including enough toiletries, pajamas, bathrobes, samue outfits, green tea bags, coffee bags, and a complimentary mini-bar including beer.  You can travel light.  Complimentary drinks, such as beer, coffee milk, water, coke, wheat tea, and popsicles are available near the communal hot springs.  There are THANN, POLA, and Shiseido amenities in the bathroom.  Room service is available until 22:00.  There is no convenience store nearby.  You may want to buy your necessities before coming here.  Cell phones, DVD players, air cleaners, and Bluetooth speakers were placed in our room.  Also, an eco-smart fire was installed.  You can request the staff to light a fire in the fireplace at night.  The free WiFi reception was excellent.   Then the property is child-friendly.  Staff provides cribs, samue outfits, and amenities for small children if you request in advance.
How about In-house Facilities?
Fufu Kawaguchiko is a universal design.  Wheelchairs are available for borrowing.  If you bring people with weak feet, you may want to inform the staff in advance as they can arrange a room near the lift.  Then there are indoor communal hot springs and saunas on 1F.  There is no communal outdoor hot spring.  All of them are open from 6:00-11:00, 15:00-24:00.  It seems that most guests use their private hot springs only in their room so we didn't see any guests using the communal ones when we stayed.  *Please note that if you have tattoos, you may not be permitted to use the public bathing area.  Then electric bicycles are available for borrowing.  You should go cycling around Lake Kawaguchi if you have time.
  TOP5 Accessible Hotels & Ryokans with Mt.Fuji Views

How about meals?
The sophisticated kaiseki food experience was simply wonderful.  If you are a gourmet, you should try it.  The local ingredients were very high-end including seafood, beef, and vegetable in season and beautiful presentation.  The portion tends to be average.  All meals are served in a dining area.  If you bring small children, the staff may offer a private room.  Dinner starts from 18:00-20:30.  After dinner, don't forget to visit the bar lounge.  The ambiance is cozy for adults.  Then you can choose either Western or Japanese cuisine for breakfast.  Breakfast starts from 8:00-10:00.   *Please note that inform the staff when you book a room with meals if you have any food allergies or dietary needs.  They probably wouldn't be able to prepare alternative food if you request on that day.  Then there wouldn't be restaurants around the property.  The location is out of the way.  You may want to book a room including meals.
  TOP5 Gourmet Hotels & Ryokans with Mt.Fuji Views

My impressions
The staff tends to be friendly, helpful, and attentive, but not sophisticated.  Overall, the price range would be reasonable.  We were completely happy the whole time.  Have a nice trip!  Welcome to receive any questions about Fufu Kawaguchiko from the below space.  You need to inform the staff of your expected arrival time.   Check Availability and Pricing for the hotel on Booking.com or Agoda
Info about Fufu Kawaguchiko
Style

Small Luxury Hotel

Check-in and out times

15:00/11:00


Estimated Price

70,000 JPY for 2 adults per room

Contact E-mail


reservation1@kawaguchikofufu.jp

Internet Connection

Free WiFi in the hotel

Facility Information

Wheelchairs are available




Pets are not allowed




The free parking lot is available

Location

Fufu Kawaguchiko's MAP

Access

15min by TAXI from Kawaguchiko Station

Address and TEL

2211-1 Mizuguchi Kawaguchi-Aza
Fuji-Kawaguchiko-Machi
Minamitsuru-Gun Yamanashi 401-0304
Tel +81

557-86-3883

Official Homepage

Fufu Kawaguchiko's HP
*All information is as of the date that I posted on my blog.