What kind of hotel is Conrad Tokyo?
This is a luxury 5-star modern hotel with magnificent Tokyo Bay views near Ginza, Tsukiji, Asakusa, or Roppongi. The location is in the business district.  If you want to relax in a room while viewing a spectacular view, the hotel would be one of the best.

Overall, it seems less interesting than the latest luxury 5-star hotels and Conrad Tokyo is not as impressive as others in my opinion, but the hotel has an intimate yet somehow dignified atmosphere and calmness.  After all, it may be this kind of hotel that I want to come back to.
The ambiance is serene, modern, and sophisticated.  The hotel would be great for couples, family, solo travelers, or business persons.  There were many families with children on the weekend when we stayed here.
  TOP5 Luxury 5-star Hotels in Tokyo

Is the location easy to access?
Yes, the hotel is a directory connected with Shiodome Station.  Also, it takes 10min on foot from Shimbashi Station.  Refer to the below map.   If this is your first visit to the hotel, it may not be easy to find the entrance.  Check the map carefully in advance.  The hotel is located in Tokyo Shiodome Building and the hotel reception is on 28F.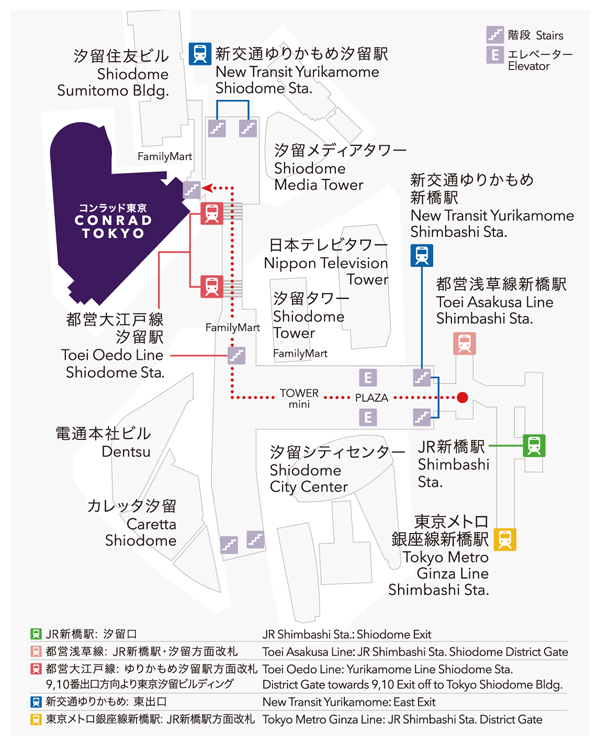 Then if you have a lot of luggage, you might want to take a taxi from Shimbashi station.  It costs around JPY800.

Alternatively, it takes 45-60min by Airport Limousine Bus from Haneda Airport to the hotel and costs JPY950 per adult.  It takes around 90min from Narita Airport and costs JPY3,200.  You need to get a bus ticket at the bell desk on 1F in advance if you take an airport limousine bus from the hotel.
FYI, it takes 40min by train from Haneda Airport to Shiodome Station, 35min by train from Haneda Airport to Shimbashi Station.  Alternatively, it takes around 30min by taxi from Haneda Airport to the hotel and costs around JPY7,000.
Rooms I would recommend?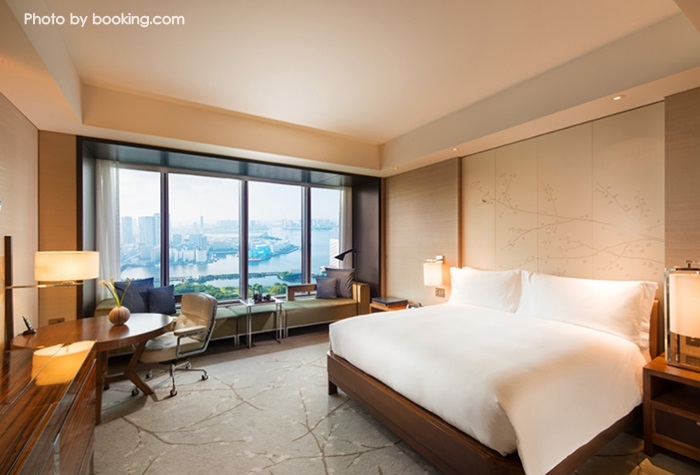 If you are going to stay here, I would recommend a room with Tokyo bay views.  Then when you book the room, you may want to request the Ginza area side.  *Left side facing the ocean  That can't be guaranteed due to availability, but if you are lucky, you may be able to get it.  We were overwhelmed by the beauty of the views while chilling out in our room in good weather. 
On the other hand, rooms with city views wouldn't be special.  Some tall buildings are spoiling the views.  The hotel is built in the business district so it cannot be helped.

Then if you are going to stay here during busy seasons, such as Lunar New Year, late March, from late April to early May, late July to late Aug, the weekends of Oct and Nov, and the end of the year and New Year holiday, you may want to book a room with access to the executive lounge 37F on the executive floors.  During the above period, the hotel will be very crowded more than you expect.  If you have access, you can check-in and out at the lounge while having coffee.  You wouldn't need to make a line at the reception on 28F. 
Then the hallway from the elevator to the room we stayed in was very long.  If you bring small children, you may want to request a room near the elevators.
  TOP5 Luxury Hotels with Great Views in Tokyo

How about the executive lounge on 37F?
If you stay on the executive floors or a diamond member of Hilton Honors, you can get access to the lounge.  The food presentation is held 3 times as below.
It's open between 6:30 and 22:00.
  Breakfast 7:00-10:30
  Afternoon tea 15:00-17:00
  Evening cocktail 18:00-20:00
Overall the food quality is good, especially the evening cocktail.
The continental buffet for breakfast is not so extensive, but the restaurant called Cerise on 28F would be often busy.  If you want to have breakfast in a tranquil atmosphere, you should have it at the lounge.

Then complimentary sandwiches, croissants, scones, ice cream, macarons, chocolate, bavarian pastry, muffins, cookies, and cake, etc., available during afternoon tea.
Then complimentary rice ball, dumpling, fried rice, sliced steak, potato salad, vegetable sticks, smoked salmon, salami, blue cheese, gnocchi with cream sauce, French bread, lasagna, beer, wine, champagne, Japanese sake, gin, shochu, whiskey, soft drinks, etc., are available during Evening Cocktail.  Each dish was nice.  You may not need to go out for dinner.
  TOP5 Luxury Hotels with Club Lounges in Tokyo

How about toiletries & in-room amenities?
All of the amenities are taken care of including enough toiletries, pajamas, bathrobes, bottled water, English tea bags, snacks, a green tea set, chocolate, umbrellas, and Conrad toy bears and duck for your souvenir, etc.  There were SHANGHAI TANG bath amenities in our bathroom.  A Bluetooth speaker was placed.  Room service is available for 24H.  There is a convenience store nearby.  Then free Wi-Fi reception is not available, but if you register for Hilton Honors, you can use it for free during your stay.

Is this child-friendly?
Yes, the staff provides cribs, baby baths, pajamas, slippers, toothbrushes, and toys, etc. if you request in advance.  One child (ages 12 and under) per adult will be free of charge for co-sleep.
  TOP5 Luxury Hotels for Families in Tokyo

How about In-house Facilities?
There is an amazing indoor swimming pool, a gym, saunas, and Jacuzzis on 29F.  All guests can use all of them for free.  The indoor swimming pool is open from 6:00-22:00.  *A minimum age requirement of 4 applies  The gym is open for 24H.  *A minimum age requirement of 16 applies. 
You can rent swimwear, swim caps, sportswear, and shoes, etc. 
*If you have tattoos, you may not be permitted to use the public bathing area.  Alternatively, when you use the swimming pool, you may need to wear rash guards.
  TOP5 Luxury Hotels with Swimming Pools in Tokyo
Then there is a spa treatment shop on 29F.  You need to make an appointment in advance if you want to have a treatment service.  It's open between 11:00 and 20:00.
  TOP5 Luxury Spa Hotels in Tokyo

Then this is a perfect universal design.  There are some rooms for wheelchair users.  Wheelchairs are available for borrowing.  If you bring someone with weak legs, you may want to inform the staff in advance as they arrange a room near the lifts.
  TOP5 Accessible Luxury Hotels in Tokyo

How about meals?
We tried breakfast at the restaurant called "Cerise" for breakfast on 28F.  The western Japanese buffet was good.  The food tends to be not so extensive.  You can choose an egg dish, such as eggs benedict, pancakes, French toast, omelets, etc.  The breakfast is between 7:00 and 10:00.
There is French, Chinese, Japanese, all-day dining restaurants, and Bar & Lunge on-site.  Also, there are some restaurants around the property.  Then you can visit the Ginza area for meals as it takes 15min on foot.  Most of the restaurants around here are open from 11:00 AM except for fast food shops.
My impressions
Overall, the staff tends to be patchy.  It seems that they were so busy.  The hardware is outstanding but the software wouldn't be the same class.  The hotel would be understaffed.  If you expect signature Japanese first-class hospitality, this is not. 
Then the hotel would be crowded, especially on weekends and Japan's public holidays.  If you want to relax in a tranquil atmosphere, you may want to stay on weekdays. 
At last, don't forget to check the weather forecast before booking a room.  If it's fine, just go ahead.  That's the most important.  You can fully enjoy spectacular Tokyo bay views from your room.  Have a nice trip!  Welcome to receive any questions about the property from the below space.  Check Availability and Pricing for the hotel on Booking.com or Agoda
Info about Conrad Tokyo
Style

Luxury City Hotel

Check-in and out times


15:00/12:00

Estimated Price

50,000 JPY for 2 adults per room

Contact E-Mail


TokyoInfo@conradhotels.com




Internet Connection

Free Wifi in the hotel

Facility Information

Wheelchairs are available




Pets are not allowed


The parking lot is available at 3,000JPY per day


Valet Parking is available at 4,000JPY




Location

Conrad Tokyo's MAP

Access

10min walk from

Shimbashi Station


connected to

Shiodome Station




Address and TEL

+

81 Tel

Official Homepage

Conrad Tokyo's HP
*All information above is as of the date that I posted on my blog.