What kind of hotel is The Capitol Hotel Tokyu?
This is one of the best luxury 5-star hotels in TOKYO.  Once you enter the hotel, you will feel like another world.  The dynamic main lobby created by Mr. Kengo Kuma of a Japanese famous architect is truly amazing.  The Japanese-style flower arrangement in the center of the lobby changes every month, so you can feel the change of the seasons.
This is surrounded by the lush greenery of Hie Shrine, a rare natural environment in the city center, but the hotel offers excellent access and convenience to the government district, Marunouchi, Ginza, and Roppongi.
The area around the hotel has the Imperial Palace, Shinto shrines, National parliament building, the supreme court, etc. making it a great place for a walk or jog.  Don't forget to take a walk around there.   A map of the jogging course is available at the reception.
Then, all staff is first-class.  They provide sophisticated Japanese hospitality to all guests from all over the world.  You can feel the elegant "Japanese" hospitality.  We were so impressed with their warm hospitality during our stay.
If you are a solo traveler, business person, couple, family, or group, the hotel would be great for you.
  TOP5 Luxury 5-star Hotels in Tokyo
  TOP5 Luxury Hotels in the Roppongi Area, Tokyo
  TOP5 Luxury Modern Japanese-Style Hotels in Tokyo

Is the location easy to access?
Yes, the entrance on B2 of the hotel is directly connected to Exit 6 of Kokkai-gijidōmae Station and Tameike-sannō Station.  Even on a rainy day, you can get from the station to the hotel without getting wet.

For wheelchair users, take Exit 7 at Tameike-sanno Station on Tokyo Metro Nanboku Line and a 3min walk.  The hotel is directly connected to Exit 6 of the station, but since there is no elevator, it is better to use Exit 7.
Then it takes less than 10min by train from Tokyo Station.   Also, it takes 40min by taxi from Haneda Airport and costs around JPY6,000.
*Please note that there is a possibility of traffic jams during rush hours. You should avoid using a car during weekday rush hours in Tokyo.
Then the parking lot is available at JPY4,000 per day.  The valet service costs JPY2,000 between 7:00 and 21:00.
Where is the best accommodation for anniversaries?
If you are looking for a good place for a special occasion in Tokyo, the property would be one of the best.  The staff arranges flowers and cakes to celebrate an anniversary at additional charges if you request in advance.
  TOP5 Romantic Luxury Hotels in Tokyo

Rooms I would recommend?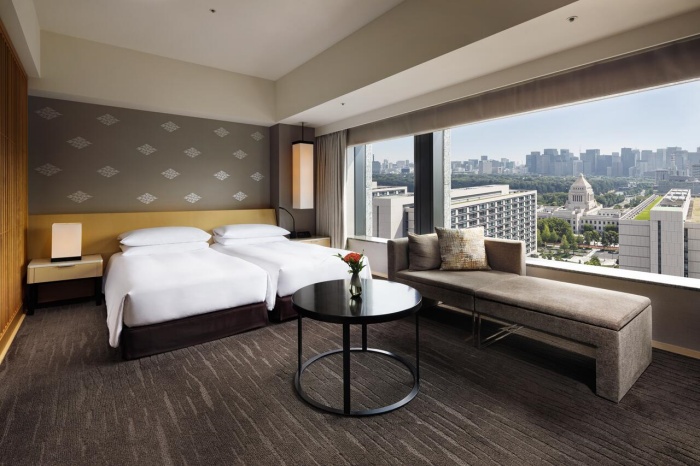 If you are going to stay here, I would recommend a room with a National parliament building view.  That's really nice.  You should request it when you book a room.  That can't be guaranteed due to availability, but if you are lucky, you may be able to get it.

How about the club lounge?
The club lounge called "The Capitol Lounge SaRyoh" on 27F is awesome.  I've been to several other 5-star hotel lounges, and this is definitely one of the best in TOKYO.  If you stay on the club floor or in a suite, you can use the club lounge.  On top of that, the parking lot and valet service are available for free.  A meeting room is available for 60min for free.  Also, you can check in and out here.

Then overall, the food presentation and drinks are amazing.  A wide variety of fine whiskeys, champagne, wines, beer, Japanese sake, and fresh juices, etc. are available.  The sweets are all of the highest quality.  Chestnut cake, mango pudding, banana cake, chocolate cake, apricot tart, sandwiches, danishes, and scones, etc. are available during the afternoon tea time.  The Arita-yaki tableware is also nice.

During cocktail time, hors d'oeuvres, salads, soups, slices of french bread, desserts, and main dishes such as steaks are available.  Of course, the food tastes great.  There is a chef dedicated to the club lounge here.  This is where you can enjoy your dinner.  On top of that, the view is fantastic.  In the evening, the Parliament building is lit up, so you can enjoy a different view from the daytime.
The food presentation is held four times a day.
  Breakfast          7:30-11:00
  Tea Time          11:30-13:30
  Afternoon Tea 14:00-16:00
  Cocktail Time  17:00-21:00  *A minimum age requirement of 13 applies
   TOP5 Luxury Hotels with Club Lounges in Tokyo
How about toiletries & in-room amenities?
All of the amenities are taken care of including enough toiletries, pajamas, bathrobes, a coffee machine with capsules, English tea bags, a Japanese tea set, bottled water, welcome sweets, etc. There were THEMAE bath amenities in my bathroom.  Room service is available for 24H.  Turn-down service is available.  The Free Wi-Fi reception was excellent.  A BOSE speaker and a smartphone were placed.  DVD, CD, Blu-Ray players are available for borrowing.  There are some convenience stores nearby.

Is this child-friendly?
Yes, the staff arranges amenities, baby cots, pajamas, slippers, toothbrushes, etc. if you request in advance.  Also, they can arrange a babysitter for an additional fee.  *One child up to 9 years old per adult will be free of charge for co-sleep.
  TOP5 Luxury Hotels for Families in Tokyo

How about In-house Facilities?
There is an amazing indoor swimming pool, jacuzzi bath, sauna, terrace, changing room, and gym on 15F.  You can use the swimming pool and the gym for free.  You need to pay JPY2,200 if you use the others.  Don't forget to relax at the poolside.  The view is amazing.  They are open between 6:30 and 20:00.  You can rent swimwear, sportswear, shoes, etc. at JPY800.  *If you have tattoos, you may not be permitted to use the capital fitness club.  **A minimum age requirement of 18 applies  ***If you stay on the club floor or in a suite, all of the above amenities are free of charge. 

Then there is a great spa treatment shop on 15F.  You need to make an appointment in advance if you have a spa treatment service. The spa shop is open between 10:00 and 21:00.  Closed on Mondays.
  TOP5 Luxury Spa Hotels in Tokyo

Then Koto known as "Japanese harp" live music concerts are held every Saturday in the lobby.  Starts at 11:30, 13:00, 14:00, 15:00, 16:00, 30 minutes each

Then there is a business center, florist, souvenir shop, and money change machine in the hotel.
Then this is a perfect universal design. There are rooms for wheelchair users. Wheelchairs are available for borrowing. If you bring someone with weak legs, you may want to inform the staff in advance as they arrange a room near the lift.
  TOP5 Accessible Luxury Hotels in Tokyo

Then this is pet-friendly.  There are some pet-friendly rooms where you can stay with your dogs.  *Up to 10 kilograms  You need to inform the staff in advance if you bring them.  There are some conditions.
  TOP5 Dog-Friendly Luxury Hotels in Tokyo

How about meals?
There are wonderful western, Chinese, and Japanese restaurants, a bar, and a lounge.  We tried breakfast at the western restaurant called ORIGAMI on 3F.  The ambiance is excellent.  We enjoyed the food while viewing a traditional beautiful garden.  You can choose from Continental breakfast JPY2,800, American breakfast JPY4,000, Morning Steak Breakfast JPY5,500, Seasonal Breakfast JPY4,000, or Japanese breakfast JPY4,000.  The morning steak would be the best the portion tends to be big.  The breakfast is between 7:00 and 11:00.

Then the afternoon tea at The Capitol Hotel Tokyu is very popular because of the wonderful Japanese-style decorations.  It is very difficult to make a reservation, but if you are staying at the hotel, you should definitely try it.  The afternoon tea here is probably the best in Japan.
Then there are many nice restaurants around the property.  If you are a gourmet, you must be excited.  If this is your first visiting Tokyo, you should ask the staff about recommended restaurants, cafes, shops, etc.

My impressions
Japan is blessed with many fine hotels but this is indisputably one of the best.  You will experience the traditional beauty of Japan and first-class hospitality during your stay.  It will be your best memory.  Have a nice trip.  Welcome to receive any questions about the property from the below space.  Check Availability and Pricing for the hotel on Booking.com or Agoda
Info about The Capitol Hotel Tokyu
Style

Luxury City Hotel

Check-in and out times

15:00/12:00


Estimated Price

65,000 JPY for 2 adults per room

Contact E-Mail Address


Fill the form in




Internet Connection

Free Wifi in the hotel

Facility Information

Wheelchairs are available


Pets are allowed
The parking lot is available JPY4,000 per day
The

valet service JPY2,000




Location

The Capitol Hotel Tokyu's MAP

Access

Refer to the above

Address and TEL

Official Homepage

The Capitol Hotel Tokyu's HP
*All information the above is as of the date that I posted on my blog.